We hope that the article swot analysis of Maruti Suzuki will provide valuable information regarding the swot analysis of Maruti Suzuki, which means the strength, weaknesses, opportunities, and threats of Maruti Suzuki, its history of Maruti Suzuki, marketing strategy of Maruti Suzuki and products of Maruti Suzuki, etc.
Maruti Suzuki is a brand and market leader in India. Most people use Maruti Suzuki, and Maruti Suzuki is famous for it. The largest automaker in India is Maruti Suzuki.
The marketing staff of Maruti Suzuki plays a significant role in the expansion of Maruti Suzuki in India. Today we know that the marketing style is updated day to day. We can efficiently market our products with digital marketing. Now we had many digital marketing expert in India. Now a days there is a huge invest in digital marketing. In digital marketing email marketing , whatsapp marketing in India, social media etc are more familiar. Digital marketing Course is also a best short term courses for ladies.
Are you interested in what Maruti Suzuki is doing in the Indian market and their strategies? This is the best article for that. Here you can get all the details about Maruti Suzuki and its marketing strategies in this blog.
Maruti Suzuki is a combination of Maruti udyog limited and Suzuki. Maruti udyog limited was established by the Indian government especially Sanjay Gandhi on 24 January 1981. Because after independence, the people look out for an elegant life.
But no one is ready to spend much money on cars or vehicles. Even the brand premier and Hindustan motors were hiring customers in their success. At that time, the Indian government established Maruti udyog limited in 1981.
In 1982 Maruti udyog limited combined with a Japanese automobile firm, Suzuki, and formed Maruti Suzuki; in the same year, the Maruti Suzuki company established a new production unit in gurgaon, Haryana. After merging with Maruti Suzuki, the company imported fully built 40,000 cars in the first couple of years.
The famous car Maruti 800 was the first production of the Maruti Suzuki. In the 1980s, Maruti 800 was the discussion topic when other brands introduced their models in the market. Because Maruti 800 is a 5-door hatchback model with an 800 cc engine and five seater car, which the Maruti Suzuki did in the Indian market.
Compared with other cars in the 80s, like the contessa, the ambassador Maruti 800 is small and easy to maintain. After the successful launch of the Maruti 800, they made many other models with many successful ideas and safety features.
Launch of the king:- In 1985, the offroad king was launched by Maruti Suzuki, and it's named the Maruti Suzuki gypsy. We all love to go off-road, and now we have many other off-road jeeps like Mahindra Thar, jeep, etc., but when we talk about an off-road ride, the first name in our mind is always gypsy. The main attraction of a gypsy is its boxy body and muscular look.
Launch of the first Indian sedan:- In 1989, Maruti introduced the first Indian maid sedan model, Maruti 1000 (esteem). It is a 1.0-liter petrol engine and is familiar with its off-road capability.
The history of Maruti Suzuki gives us inspiration and marketing strategy of Maruti Suzuki to know more business ideas.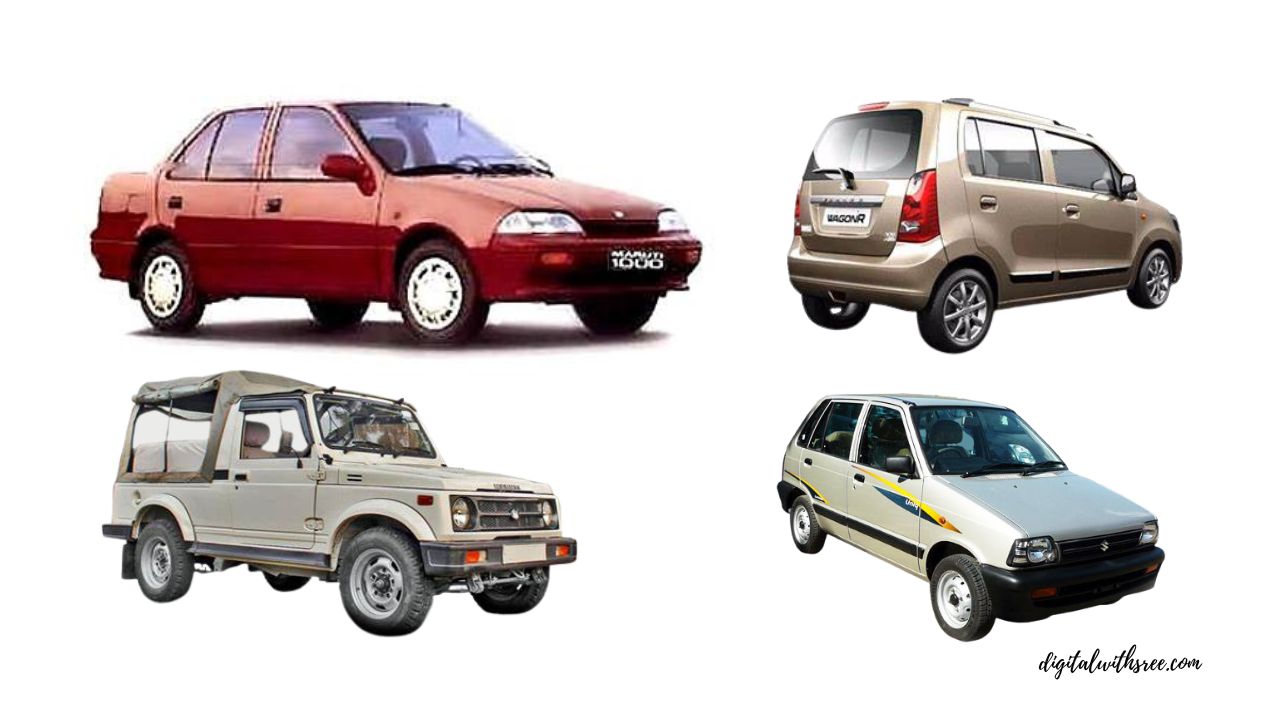 SERVICES AND PRODUCTS OF MARUTI SUZUKI
The main product of the Maruti Suzuki is an automobile. The cars made by Maruti Suzuki are the most popular worldwide, especially gypsy, Jimny, etc. Maruti Suzuki also made engines for boats. Maruti Suzuki produces spare parts which can be easily affordable to consumers.
Maruti Suzuki also provides many other services to the public, like nexa, Maruti insurance, Maruti finance, Maruti true value, N2N fleet management, Maruti accessories, and Maruti driving school. These are the services provided by Maruti Suzuki; let's evaluate the benefits.
Nexa:- Maruti Suzuki introduced nexa in 2015. Nexa is a new dealership that provides premium luxury cars to customers. Maruti Suzuki s-cross was the first sold model through the nexa. Currently, Maruti Suzuki sells excellent models like Baleno Grand Vitara and Ignis are only available through the nexa. It is the third-largest retail shop in India.
Maruti insurance:- in 2022, Maruti Suzuki established Maruti insurance for their customers with the support of a national insurance company. The service of Maruti insurance is done with two subsidiaries, Maruti insurance distributors service PVT.ltd and Maruti insurance brokers PVT.limited. Maruti started their insurance service to value the customer and expanded Maruti insurance within a short period.
Maruti finance:- from the head, we can easily recognize that this is a financing company that provides loans to customers. Maruti Suzuki started Maruti finance to boost growth in 2002.
Before the launch of Maruti finance, they created two joint ventures, Citicorp Maruti and Maruti countrywide, with the help of Citi group and GE countrywide to assist the client in securing the loan. The company Maruti Suzuki tied up with ABN Amro bank, HDFC bank, ICICI Limited, Kotak Mahindra, and Sundaram to begin this venture. They are also strategic partners in automobile finance.
Maruti true value:- in 2001, Maruti Suzuki launched a new event, and its name is true maru value. Maruti true value is a showroom that provides the pre-owners of Maruti Suzuki cars to easily sell, buy or exchange their Maruti cars in Maruti true value.
This is helpful to Maruti Suzuki customers, so they get the real value of their Maruti Suzuki cars in the same brand showroom. On 10 August 2017, Maruti Suzuki enlarged their services to 1190 outlets across 936 cities.
N2N fleet management:- N2N is the short form of end-to-end fleet management. It provides fleet and lease administration to corporations. Clients like the Gas Authority of India ltd, Doordarshan and singer India, national stock exchange of India get the services provided by the N2N fleet management or end-to-end fleet management. Convenience services, leasing, maintenance, and remarketing are included in this N2N service.
Maruti accessories:- Maruti genuine accessories started with a mission to provide authentic products to customers with a brand. So that Maruti Suzuki launched Maruti genuine accessories. Because many other companies offer their accessories to many cars other than their brands so, Maruti made Maruti genuine accessories to provide car accessories like alloy wheels, stereo systems, fog lamps, seat covers, and many other car care products. So the customers will get genuine products for the same brand of car.
Maruti driving school:- Maruti driving school is a brilliant decision made by Maruti Suzuki to avoid death on Indian roads. For that, Maruti driving school started in delhi, and now it is done in different cities in India. In India, accidents on the road are more for reducing since Maruti started Maruti driving school. Here they teach how to behave on the road and how to drive. They provide theoretical and practical sessions before the driver goes to the road to drive a car. Through this service, we can reduce road accidents on Indian roads.
These are the services provided by Maruti Suzuki to Indian society.
COMPITETORS OF MARUTI SUZUKI
Among all the competitors of Maruti, we listed some of them.
Tata:- we all know that tata motors are a competitor of Maruti Suzuki. Tata motors provide cars like nano at low cost. About the production of tata nano, ratan tata says that while he was traveling, he saw that all families were going on a bike, which was very dangerous. Then he thought of making a car that can be affordable to everyone then he made the tata nano. They also made SUVs like tata harrier, tata sumo, etc.
Mahindra:- we all like the cars of Mahindra. Because when we look back on our memories we are struck with the off-road SUV, which is a Mahindra jeep major model. Mahindra is also a competitor to the Maruti Suzuki with their models.
Toyota:- Toyota is a good one, and we all love Toyota cars. Toyota mainly concentrates on SUVs and off-road vehicles like the Toyota land cruiser, Toyota Fortuner, Toyota Innova Crysta, etc. the engine power of the Toyota is unbelievable.
Hyundai:- luxury models like the Hyundai i20, Hyundai Creta, etc., are very familiar to us. They are the competitors of Maruti Suzuki.
SWOT ANALYSIS OF MARUTI SUZUKI
From the word swot analysis of Maruti Suzuki, we can understand that. It provides information like the strengths, weaknesses, opportunities, and threats of Maruti Suzuki and how Maruti Suzuki uses its opportunities and stability. How to overcome their weakness and threats. Let's elaborate on them,
STRENGTH OF MARUTI SUZUKI
According to a company, its uniqueness is its main strength. Maruti Suzuki, their market shares, attracting customers, services that Maruti Suzuki provides customers, and maximum profitability are the strength of Maruti Suzuki.
Maruti Suzuki's market share:- Maruti Suzuki holds a significant market share of approximately 45%. This is more than the shares of competitors of Maruti Suzuki.
The number of sales:- Maruti Suzuki had domestic sales in past years. Almost 9,66,477 units are sold in the Indian market.
The brand value of Maruti Suzuki is high and is well known. They earned a good reputation by selling second-hand cars through their Maruti true value.
Strong advertisement and dealers:- Maruti Suzuki had a strong promotion and marketing strategy. The dealership of Maruti Suzuki is high, and the customers get Maruti Suzuki cars anywhere. For that, they keep a good tight relationship with the suppliers and dealers.
The biggest advantage of the Maruti Suzuki is its engine capacity. The Maruti Suzuki engine had good power and provided good mileage to the customers compared to competitors like Toyota, Mahindra, etc. Also, maintenance and service cost is very low for Maruti Suzuki. For this reason, more down and middle-class families consider the cars of Maruti Suzuki. These made the market value high for Maruti Suzuki. These are the strengths of Maruti Suzuki.
WEAKNESS OF MARUTI SUZUKI
Weakness can be said of the elements or facts that need to be stronger to grow up or expand a brand or company.
Poor interior quality:- cars of Maruti Suzuki had poor internal quality compared with other car companies like Hyundai, Toyota, etc. The engine capacity and mileage of the Maruti Suzuki are good, but the engine power is low compared with volkswagen or any other Toyota cars.
Government intervention:- when compared with other companies, Maruti Suzuki is owned by the government. So government approvals are required for strategic decisions.
Penetration inability:- Maruti Suzuki is famous only in the Indian market and a few other countries in Asia. Maruti Suzuki needs to become more familiar with foreign countries.
Weak employees and managerial relationship:- there needs to be a better relationship between managers and employees' unions. Maruti Suzuki's working places are closed due to the strike. The employees went on strike for the wages issue. So the relationship between the employees and managers could be better.
Diversification of workforce:- Maruti Suzuki Motors' force comprises mostly local workers. There are very few workers from other ethnic backgrounds. It is difficult for employees of different ethnic backgrounds to adjust at work, which leads to talent loss.
OPPORTUNITIES OF MARUTI SUZUKI
Opportunities are areas that a company can focus on to improve results, increase sales, and ultimately make more profit. Opportunities for Maruti Suzuki
LPG Version of Cost-Effective Hatchbacks:- Maruti Suzuki is a well-known taxi company. Most taxis are LPG connected. Maruti Suzuki recently introduced the LPG version of Wagon R, which is a positive move.
Collaborations:- Maruti Suzuki and big car makers can collaborate to bring innovations to the market. Maruti Suzuki and Toyota are working on a project to see small-sized electric SUVs launched in the market.
Technological Innovations:- Technology has many benefits for many departments. To reduce costs, operations can be automated. Technology allows customers to obtain better data and enhances trading results.
Incredible Production Potential:- Maruti Suzuki is an automobile manufacturer with a huge potential to grow in foreign markets. It has the potential to tap into European and other untapped markets where there is more growth potential.
Transport Industry:- The transport industry is thriving and has great potential for growth in the future. This has resulted in lower transportation costs which is a benefit to Maruti Suzuki, as it reduces its overall costs.
Threats are environmental variables that can harm a company's growth. Maruti Suzuki's threats are the following:
Market share has fallen:- Maruti Suzuki's market share has been greatly affected by the greater market share of other brands like Figo, Ford, and Volkswagen. Maruti Suzuki also saw a drop in sales in January 2022.
Intense competition:- China plans to enter the Indian car market, which could create a lot of competition. Maruti Suzuki is also competing with global brands in the automotive industry.
Controversies:- Maruti Suzuki faces certain disputes, such as the failure of its cars in accident tests and safety benchmarks. This is something customers should look at before buying any vehicle.
Customers are less likely to purchase because of rising fuel costs, demonetization, and economic recession.
THE REASON WHY MARUTI SUZUKI STILL SUCCEEDS IN THE INDIAN MARKET
Maruti Suzuki still succeeded in the Indian market; the main reason is that Indian customers still love Maruti. Maruti provides good service with low maintenance charges, good engine capacity, good mileage, etc. These are the main reasons why Maruti Suzuki still succeeds in the Indian market.
Maruti Suzuki provides many advantages to customers through their different types of services. In the swot analysis of Maruti Suzuki, we provide all details of Maruti Suzuki its strength, weakness, opportunities, and threats. What made the Maruti Suzuki still succeed in the Indian market? Advantages and disadvantages of Maruti Suzuki cars etc. We are also define many other marketing strategies and case studies in our blog like marketing strategy of tata motors, lenskart case study , mamaearth case study etc to provide more valuable things.