MAMAEARTH CASE STUDY: SUCCESSFUL DIGITAL MARKETING STRATEGIES
By  Sreeresh |  Date  :  02-December-2022
    Home > Blog > Mamaearth case study
Day by day, consumers are getting educated about the harmful chemicals used in different products, and thereby are concerned about the ingredients used in the products they use. 
The brands are very well aware of this and are trying to come up with more such products for their consumers. In this blog, you will read the Mamaearth Case study. It is one such brand that is known for its organic and chemical-free products, Mamaearth. 
You will get a clear idea of the digital marketing strategies used by the e-commerce company Mamaearth. 
Mamaearth was founded by the Indian couple Ghazal Alagh and Varun Alagh in the year 2016. It was at a time that the couple was in India and had their first baby. 
But when they decided to look for the baby products available in the market, they realized that the baby products available in the market were not safe for babies, and it was challenging to find a toxin-free brand.
And for a very long time, the couple imported toxin-free products for their baby from other countries. But eventually, they realised that it would be difficult for them to always use those products as they were very expensive. 
Also, they knew that it was not only them, but other parents in India too faced the same issue.
That is when Ghazal Alagh decided to develop toxin-free products for infants. The couple then started working towards creating a new brand, picked the R&D team, and got the necessary certificates. Thus, Asia's first brand to market organic and toxin-free baby products, Mamaearth, was born. 
Target Audience of Mamaearth
The target audience of Mamaearth initially was mothers of newborn babies. The brand had products just for babies and mothers. Slowly they started expanding their business by manufacturing products like creams, body lotions, sunscreens, etc. for men and women.
The brand initially started with just six products, that were exclusively for babies. Eventually, they started introducing more products for babies and adults as well under the categories of skin care, hair care, baby care and more. 
Some of their products are unique and innovative, is India's first baby wipes based on bamboo, tummy roll for easy digestion and 100% organic and natural toothpaste for babies. 
Mamaearth, which initially started as a brand for babies, later on started introducing products for mothers too.
Apart from skincare and hair care products, this brand also has many beauty products like foundations, lipsticks, etc. 
The main aim of this brand is to provide quality and natural products to its consumers at affordable rates so that Indian consumers do not have to spend huge amounts on organic brands. 
The brand has a dedicated team to research about the ingredients used in their products and makesure that the products are toxin-free. 
Detailed Analysis of Mamaearth Case Study
Digital Marketing Strategies of Mamaearth
Website Strategies of Mamaearth
For any brand to survive in today's world, it is essential to have a good website that is informative, engaging and user-friendly.
 Without that, the brand cannot rank itself on Google SERP. So, you will now see how Mamaearth performs and the result they get for their search engine performance.
The authority score of Mamaearth's website when we check the domain overview through Semrush is 51, their organic search traffic per month is 2 million, and the number of backlinks to their website is 42.3K. All of these show their website SEO performance.

All the above-mentioned details play well together in determining a website's authority and its organic ranking in the Google search engine. 
And the user exprience on their website is also great. 
On-page SEO Strategies of Mamaearth
As of October 2022, the last blog posted on the blog page of Mamaearth was on October 21. They post blog content on topics like skin care, hair care, beauty tips, etc.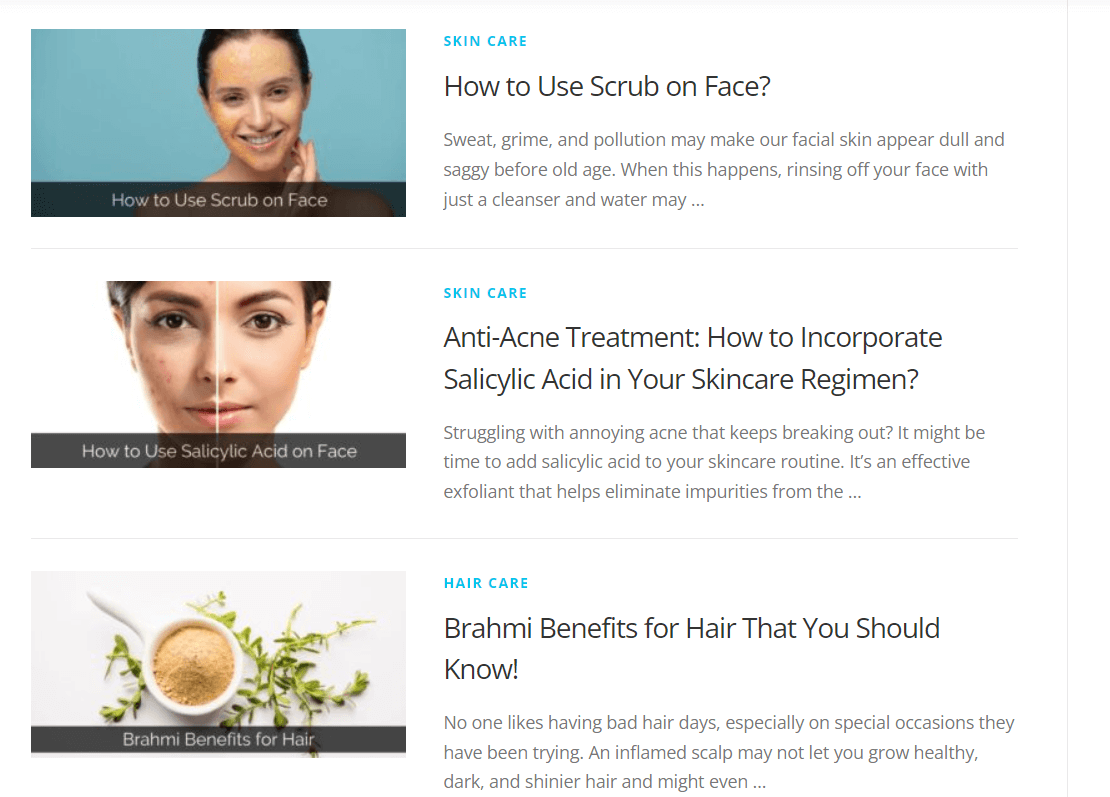 Having strong content marketing strategies is very important when you are trying to create an excellent online presence and also when you want to organically rank your website on Google. Posting a blog once and then taking a long break will badly affect the ranking of your website. 
Instagram Strategies of Mamaearth
The Instagram followers of Mamaearth is 1.1M as of October 2022. 
Their Instagram bio gives the reader a clear picture of what their brand is about. They mark their online presence by regularly posting content on their Instagram page. 
The brand has collaborations with many beauty influencers to promote its products and they post videos of such influencers reviewing their products on its page. 
The brand also introduces many contests to keep its audience engaged and bring in more traffic to its website. All these are part of the brand's Instagram content strategy.
For any brand to succeed in social media marketing, it is very important to first do a social media competitor analysis.
Only then, the brand can get a better idea about the current trends and what they need to do that their competitor is not doing. 
Google Ads Strategies of Mamaearth 
Apart from SEO, Mamaearth also uses Google ads to rank its website. Their paid search traffic is 162K, they use 80 paid keywords, and the cost they spend on the ads is 316.5K dollars.
Below are some paid keywords used by the brand Mamaearth, their search volume and cost per click.
This brand was also founded in the year 2016. As I mentioned in the beginning, customers are now looking for brands that provide chemical-free products, and WOW is such a brand that has a range of products that are chemical-free. 
The main USP of the brand is that its products are made with bio-active and toxin-free ingredients. WOW skin science also has a great online presence, and they collaborate with many beauty influencers to promote their brand. They are one of the top Mamaearth competitors.
Biotique, founded in the year 1992 by Vinita Jain, is a brand that produces ayurvedic skincare, body care, haircare and makeup products. 
Their products are dermatologist tested and also 100% organic and sustainable. The brand is getting back to the roots by incorporating ayurvedic ingredients like herbs, plant extracts, roots, leaves and flowers. 
And Ayurveda is the most organic and environmentally friendly option. The brand used exactly that and started making products that are absolutely skin friendly. 
Unlike Mamaearth and WOW skin, Boutique is more inclined towards offline marketing. They have collaborated with many hotels, and the hotels will place the shampoos, lotions, handwash, body wash, etc.
 Thus, people coming to these hotels will get to use their products, and if they like them, they will start buying the products. 
            Khadi Naturals is an Indian brand founded in the year 1963. The brand also claims to use all-natural ingredients in its products. Compared to Mamaearth, Khadi Naturals is an ancient brand that is present in the Indian markets for a very long time. 
All their products are manufactured under the direct supervision of Ayurvedic doctors who are experts in the field. Now, the brand distributes its products to over 25 countries and is a very successful brand in India.
Nowadays, another trend in the consumer community is vegan products. Many consumers have turned vegan, and they prefer vegan products for their daily use. 
Founded in the year 2013 by Mr Shankar Prasad, Plum Goodness is one such brand that produces only vegan products for its consumers.
Plum has a range of products under skin care, body care, hair care, etc. All their products are 100% chemical free and vegan. 
Just like Mamaearth, Plum too has collaborations with many influencers to promote their products. Both the brands offer natural and environment friendly products. 
Patanjali, founded in the year 2006 by Swami Ramdev and Balkrishna, is a brand that promote ayurvedic based products. 
The main products of Patanjali that are in close competition with Mamaearth products are their aloe vera gel, sunscreens and facewash. 
The main marketing strategy of Patanjali lies in how they promote their products as being related to the culture and heritage of India and Ayurveda. 
Forest essentials is an Indian brand that was established by Mira Kulkarni in the year 2000. Currently, the brand can be sound in the international markets too in countries like Australia, the UK, UAE and US. 
The brand is known for its Ayurvedic skincare products and the brand promotes itself as a luxury brand that sells Ayurveda-based products. 
Forest Essentials is a blend of Ayurveda and modern beauty, and all their products are cruelty-free, meaning the brand does not hurt animals by testing their products on animals. 
Just like Biotique, Forest essentials also has partnered with many star hotels in India to promote their brand. 
Thus, the consumers get a feeling of using a luxurious brand that is also natural, and this increases their chances of them. 
The brand was established in the year 1976 by Anita Roddick. The brand's main aim was to make products with organic and natural ingredients. Soon, the brand became very popular among young consumers.
Just like forest essentials, the body shop too is a cruelty-free brand. And this brand is a major competitor of Mamaearth as they also sell toxin-free products.
The
Mamaearth
marketing strategies
has helped the brand greatly in improving their online presence and generating leads. 
As I mentioned in the beginning, it is very important in today's time to maintain a strong digital presence to promote your business and to get maximum reach.
The concept of Mamaearth is very good, but if their marketing strategy were not good enough, they wouldn't have become this successful. 
So, it is important for any business to have strong digital marketing strategies, even if the idea is unique and the best. If you want to learn how to build a strong marketing strategy for your business, join the advanced digital marketing course of Nexxa digital academy and grow your business.