Are you aware of what Tata Motors is famous for in addition to its solid and durable automobiles? Their unique digital marketing strategies give them an edge over their competition.
They are renowned for their outstanding features and are not afraid to showcase their superiority.
Digital marketing is crucial for every automobile manufacturer, and Tata Motors is one to take a lesson from.
In this article, we'll discuss the strategies for digital marketing employed by Tata Motors and how they have gotten through rebranding and improved customer satisfaction using the internet platform.
Tata Motors has a total of 3.5 million visits to its website and is in the top category in the automotive sector.
We must first learn more about the company and its history to become one of the most famous automobile companies around the globe.
When one thinks about Tata Motors, one thinks of a large, well-established brand. What exactly is the reason that this occurs? It was founded around 1945; Tata Motors still monopolizes the automotive industry.
Tata Motors is part of the Tata group, founded in 1868 by Jamshedji Tata in 1868, and is an international conglomerate with over 100 countries spread across six continents.
It is believed that the Tata group has enormously contributed to India's economic growth. Along with creating employment for thousands of individuals, they also contributed over 4 percent of India's gross domestic product in 2018.
When it came to the digital age, Tata Motors had an advantage due to its acclaim. As well-known among people, its strategy revolved around promoting the brand and creating a solid connection with its customers.
WHAT IS A MARKETING STRATEGY
The marketing plan is a whole plan of a business to draw attention to consumers and convert them into customers of their products or service.
Marketing goes beyond marketing and advertising.The marketing plan is the strategy to promote products and services.
A marketing plan will help you to keep your efforts on track.
Creating an effective marketing plan includes setting objectives and analyzing the market, making plans for your products and strategies for marketing, and following what's commonly referred to as "the "7 P's."
What's included in the marketing strategy?
A marketing plan sets the overall direction for various marketing-related actions but not the precise details. A successful marketing strategy can assist in defining the following goals for your company:
a) Target audience
b) Value proposition
c) Product mix
d) Brand message
e) Initiatives to promote
f) Marketing content
OVERALL ADVERTISING STRATEGY OF TATA MOTORS
Tata's Group has a variety of advertising and promotional strategies that are applied to all its companies. The companies develop their advertising and marketing strategies. Here are a few methods they've employed in recent years:
Utilization of telecast commercials

It can often use famous personalities with a huge fan base and a significant online presence to advertise products.

Magazines, newspapers, and printed journals are all examples of printed media.

Advertisements on the Internet

The time of festivals, sales promotions discounts are available.

Coordination of promotional events across numerous locations across the globe.

Offering sponsorships for well-known sporting events across the globe
DIGITAL MARKETING STRATEGY OF TATA MOTORS
These are the one of the best tata motors digital marketing strategies
1.Tata Motors:- Social media marketing strategies 
The company uses social media to promote its brand values and share glimpses of how they contribute to the local community. They also discuss important issues and discuss the issue including gender equality, malnutrition, sanitation, and clean water, as well as other topics.They also use social media marketing strategy for e-commerce website.
a)Tata Motors:- Instagram Marketing Strategies
Tata Motors has over 242k followers on Instagram. Their bio states, "Tata Punch-Proud to be the Official Partner of Tata IPL 2022, to ensure relevance. Tata Motors' Instagram follows a rigorous grid, with 9-post patterns on festivals and special occasions. In addition, they frequently post about their employees and their accomplishments. Most of their profiles are full of photos and videos of the products — vehicles.
As per Phalanx, Tata Motors' engagement on Instagram has been recorded as 0.40 percent. According to Phalanx, Tata Motors' engagement rate is 0.40. Instagram marketing strategy is one of the best strategies they used.
b)Tata Motors:- Facebook Marketing Strategies
 Tata Motors' Facebook marketing strategies are a bit similar to the process of Instagram. However, you will need help finding grids with broken posts. The posts on Facebook also have captions in Hindi that get positive responses in comments. They have more than 450,000,028followers.
A prominent aspect of Tata Motors' Facebook is the comments. Many posts have negative comments regarding their services. Tata Motors, however, responds to all the words with the assurance of resolution. As per Phalanx, an engagement tool, Tata Motors's Facebook engagement rates are 0.06 percent and also it is the best platform to create an E-commerce store.
c)Tata Motors:- Twitter Marketing Strategies
Tata Motors' Twitter also features a significant number of posts in Hindi to appeal to the population of Hindi speakers in the nation. The company uses Twitter to announce and promote contests and other contests. Engagement (in terms of reshares and likes) is smaller on Twitter than on other platforms.
2.Tata Motors: Website Design
Tata Group's website Tata Group has a user-friendly website filled with intriguing content that draws a significant readership regularly. The website is an entire one-stop shop for all details about the business, including its history, segment-by-segment operation, new product launches, critical business news, and current job openings. The website's improved responsiveness helps it to stay in the top position of results for search engines, which is a sign of efficient search engine Optimization (SEO).
3.Tata Motor's Paid Marketing Strategies
a)Facebook and Instagram Ads
Tata Motors used social media websites such as Facebook and Instagram to advertise their clients and services to get the desired results. Through these advertisements, we could bring in new leads and then convert them into sales for autos.
b)Google Ads
Tata Motors made good use of Google ads to highlight the various features and styles of Tata Motors vehicles. This increased awareness among prospective customers. This drove more traffic to their website and led to the desired result.
PRICING STRATEGY OF TATA MOTORS
Tata motors use a market-penetration pricing strategy, setting the Nano at a relatively low price to attract many buyers and a significant market share.
There are a lot of Indian families who want to own an automobile instead of a motorcycle. Nano cars, which are offered at an affordable price, will be able to meet the market needs in India.
Tata motors have adapted its global localization strategy to identify the local demand and try to increase its customers' satisfaction while offering affordable cars at all times. Also, Tata motors can still provide the highest quality luxury cars like Jaguar&Land Rover.
While Nano works perfectly in the India market, Jaguar remains able to succeed due to Tato employing a market-skimming pricing strategy that sets the Jaguar at a premium price to appeal to buyers with good incomes and who can afford the price for the car in India.
Jaguar is well-known and has a reputation as a luxury car due to its elegant appearance in its branding. So, there are people who are interested in buying Jaguar cars, like stars, doctors, or lawyers, who would be able to afford Jaguar cars.
Additionally, Jaguar cars also represent the status of a person due to their price and position in the marketplace. Thus, it is capable of providing consumers ideal social self-image.
Tata Motors uses demographic segmentation to segment their market by income for their products, such as Nano and Jaguar.
Nano's cost Nano has resulted in massive demand from the India market and can be more affordable for those with less income. Furthermore, Jaguar targets high-income consumers.
In addition, Tata Motors also uses a Global diversification strategy. This is apparent through the Acquisition of Jaguar, which led Tata Motor to a whole new market, now Jaguar, which has led to an entirely new market, the European market.
This presents the perfect opportunity for Tata Motor to tap into the European market, gain market share and boost its profit.
In contrast, Tata motor introduced Nano to help affordable brands in the India market reach consumers with lower incomes. In the end, Tata Motors would successfully capture both the shallow and high end of the need for automobiles and the top high.
TATA GROUP GROWTH STRATEGIES-4 ESSENTIAL GROWTH HACKS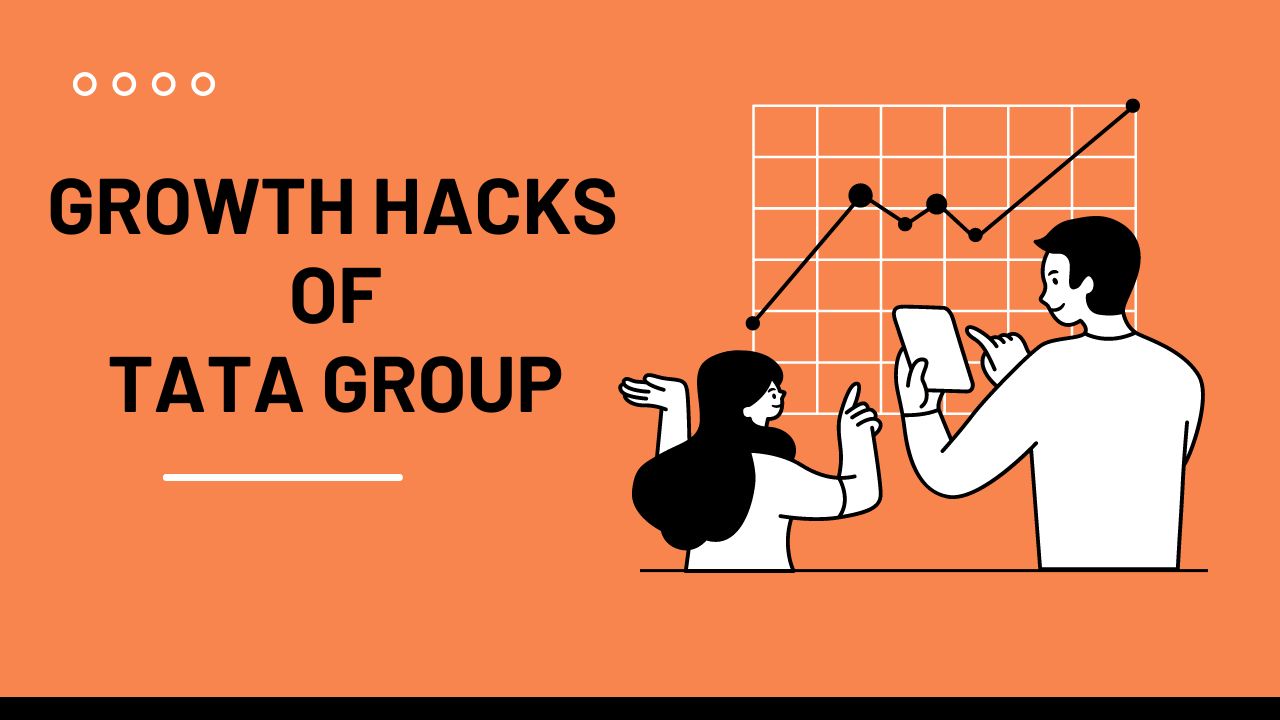 Tata Group performed well in 2021, plagued by pandemics, with the highest moment being its Air India acquisition, and is now planning to expand on the four themes of resilience to new energy, supply chain resilience, and health.
The growth strategy of the Tata Group in the coming year will concentrate on four areas of focus – digital and supply chain resilience, new energy, and health -chairman N. Chandrasekaran told reporters.
In an uplifting year-end New Year announcement to workers, Chandrasekaran declared that Tata group businesses were adapting to changes based on these four themes, leading to better performance.
Tata's over $100 billion conglomerate's latest pilot ventures, such as 5G and TataNeu, will likely see benefits from these four themes in the coming years, Chandrasekaran said.
TataNeu is a "super app" released for its employees in September this year.
 The platform offers several apps like BigBasket, Croma, Taj, 1MG, and AirAsia under one roof.
As a whole, The Tatas have benefitted from its "3S" strategy of synergy, simplification, and scale. Implementing the system transformed the Indian conglomerate into more efficient and profitable than in a while." 
The Group must keep pushing itself to be more straightforward, sustainable, and technologically advanced. If we do, we can move our company and country forward," the chairman stated.
The most significant milestone of this year was the Group's attempt to win Air India, which marked a critical moment in history.
In a discussion about the epidemic, Chandrasekaran said the Tata Group could supply oxygen to hospitals and increase the capacity of healthcare to allow more patients to be treated.
However, the expansion of the Tata Group depends on the immediate issue, which is learning how to manage COVID-19.
Tata Group is one of the most prestigious multinational companies in the world and is a powerhouse to be reckoned with.
The Tata Group is critical to the Indian economy, as it is among the nation's most prominent private-sector employers, taxpayers, and exporters.
The organization has evolved and mainly depends on technological advances in its marketing campaigns.
Tata Group, on the contrary, has some operational problems. Some of their marketing efforts have not been effective over time, and they've failed to increase market share in certain areas.
However, they are determined to make improvements. Tata Group continues to try to make improvements and progress in its strategy and operations. If you want to know more about digital marketing course duration and fees and also learn about how to make passive income through digital marketing.