IN-DEPTH SWOT ANALYSIS OF MAGGI
By  Sreeresh |  Date  :  03-December-2022
    Home > Blog > SWOT analysis of Maggi
 and digital marketing Almost every Indian household will be using at least one product of Maggi, be it noodles, pasta, sauces or other food products. 
Nestle, the parent company of Maggi is a global leader in the food and beverage industry. Out of all their products, Maggi's noodles is the most popular in India and worldwide. 
And it was the same noodles that led Maggi and Nestle into a massive crisis. In this blog, you will see an in-depth Swot analysis of Maggi its marketing and digital marketing strategy. 
SWOT analysis is an important management framework that can help you analyse a company in detail. Swot analysis is a compass for the management. 
It is an important tool for the effective planning of any brand. A well-prepared swot analysis can solve several problems or can chalk out a plan to tackle the problems.
Brands like Maggi will use this framework to monitor their performance and compare it to their competitors. Through this, the brand can know its strengths (S), weaknesses (W), opportunities (O) and threats (T), thereby improving its performance and marketing strategies. 
As I mentioned in the beginning, Maggi has a plethora of products that are marketed in the Indian market.
 And if we take their noodles range alone, there are a wide variety of products that is used by the Indian consumer community. 
So, how did Maggi become the monopoly of noodles in India and gain such acceptance from the Indian population? That is exactly what you will be seeing in this blog today. 
– Strengths of Maggi
The noodles market is led by Maggi, which enjoys a high level of consumer loyalty.
Maggi's great advertising has helped it become a household name.
Maggi is available in a variety of flavours.
Nestle's goodwill has greatly helped the brand strength of Maggi 
Along with instant

noodles

, Maggi sells

soups

,

sauces

, and more products.
Maggi is ready to eat and easy to make. Students, young couples, and teens all love noodle dishes.
Thanks to TV advertisements, print ads, web ads, and out-of-home advertising, Maggi has a large audience.
– Weaknesses of Maggie
One important weakness of Maggi the possible health issues that can be caused by Maggi food products. As more and more people are becoming health conscious nowadays, Maggi's negative impact on health is stopping people from buying Maggi. 
– Opportunities of Maggie
Could develop a worldwide presence by utilising Nestle's distribution and brand familiarity.
The company could increase its consumer base by introducing new flavours and packaging.
Maggi could work with hotels, colleges, restaurants, and other businesses to supply ready-to-eat snacks.
– Threats of Maggi
Maggi's USP, ' 2-minute noodles,' can be a threat to them because many claims that the noodles don't cook in 2 minutes. So, the competitors can come up with noodles that cook the noodles in 2 minutes. 
The brand has fierce competition from both regional and international companies.
Maggi's survival is in danger due to the online and social media propagation of negative Maggi noodles reviews.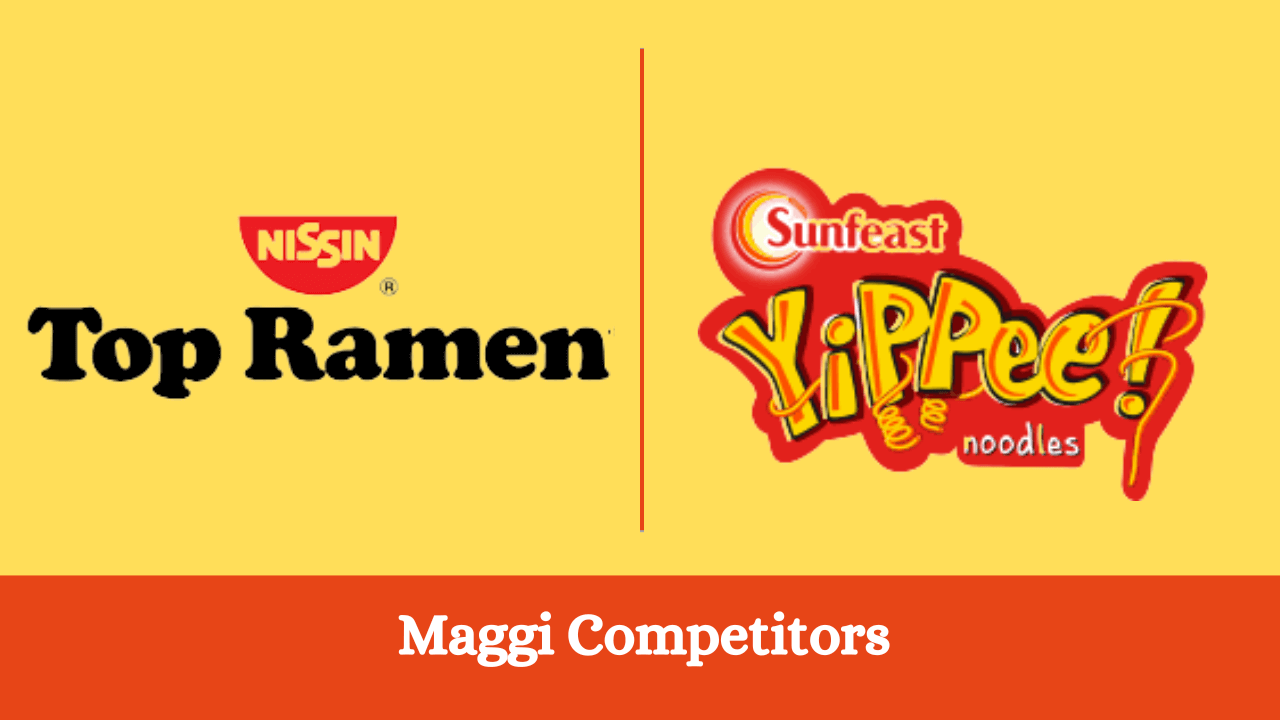 You know that Maggi has been the leading brand in the world of noodles for many years, but now, there are numerous other brands that are competitors of Maggi.
These are the top two competitors of Maggi in India:
Top RAMEN

– this noodles brand is in the second position in India. RAMEN entered the Indian market 18 years ago and is in a close competetion with Maggi. It's a global brand of Nissin it was first introduced in the year 1991.

Top Ramen then was the most prominent advertisement in the mass media. Another reason was its promotion strategy as well as its unique distribution strategy. 
Yippee Noodles

– Sunfeast's Yippee noodles is the newly established noodles manufacturer in India that was another close competitor of Maggi. Their main USP was their round noodles and they even came up ads targeting the issue consumers face with cold Maggi, where Maggi gets clumped up when cooled down.
How Maggi Entered The Indian Market
Have you ever wondered how Maggi, a non-Indian brand that sells noodles, a dish that was not that famous in India entered the Indian Market? Well, that is exactly what you will be reading now.
It was in the year 1983 that Maggi first set foot in the Indian market. At that time, Nestle had a great challenge in front of them. 
The challenge was that Indians consumed rice and wheat more and noodles was not a necessity for them. 
And an important point in marketing any good or service is that there should be a necessity for it among the consumers. 
That is exactly what Nestle did with Maggi. They created a necessity, and their target audience was mothers, especially working mothers.
 Most mothers struggle to decide what to give their kids when they return home from school and also they might not get enough time to make tasty snacks in the evening.
That is where Maggi comes in. Nestle marketed Maggi as a quick and tasty evening snack for kids, and it was also something unique for the Indian taste palette. 
This is how Nestle introduced Maggi to Indian consumers, and the rest is history. 
Maggi Marketing strategies
We will analyse the marketing strategy of Maggi using the marketing mix framework. This framework includes the 4Ps of marketing, viz. Product, Price, Place, Promotion. 
1. Product Strategy
Maggi is among the top food brands that are part of Nestle. They offer a variety of items. The Maggi products are classified as Maggi instant noodles, Maggi soups, sauces and Seasonings.
Maggi's instant noodles is very famous among their food products. The most popular noodles in this category are vegetable multigrain Noodles as well as chicken Noodles, Cuppa Mania, Oats Noodles, Hot Head Noodles and Atta Noodles. 
Maggi Soups: The Maggi Soups category has a wide variety of soup mixes and the products available differ by country. In India Maggi has Tomato Margherita as well as corn with pepper, green pea with corianderand so on. 
2. Price Strategy
Maggi utilizes an approach to pricing based on cost to tap into the various markets across the globe.
The price-competitive prices are paid back with the highest amount of the product. This indicates that the cost and competition are most important factors in the price strategy of the marketing mix of Maggi.
In light of the increasing costs in various countries, Maggi has smartly started diminuting the number of units to maintain the same price.
 Nestle is determined to secure the largest market share by offering minimal prices and the highest quality standards. 
Since Maggi attempts to reach all areas of income-related factors and has a wide range of prices dependent on locations across the world. 
Additionally, the products are offered in a variety of packages , so that customers can purchase according to their requirements. 
Maggi recently began making new products such as Hot Head Noodles as well as the Cup range that are targeted for those with higher income segment, and consequently priced higher.
3. Place and Distribution Strategy
Maggi products are readily accessible due to the substantial influence of Nestle. The distribution strategy that Nestle uses is Producers to Distributors to Wholesalers to Retailers to consumers. This is due to the fact that Maggi is consumed in a huge amount.
Maggi products are sourced directly from the factories, which are managed individually to transport forward agencies. They then store them in their warehouses before they deliver them to wholesalers. In accordance with the quantity that they need. These amounts are then divided between retailers, as well as smaller businesses, and so on.
4. Promotion Strategy
Maggi has employed advertising as its main promotion strategy to increase awareness. In the beginning, it focuses on women who work and kids who don't have time to cook their food. The ads are mostly shown on channels for children with powerful tags.
Maggi also has used the slogans of Maggi's "Miss You Maggi" advertising campaign to win the lost customers following its Maggi-related bans in India. As a part of its marketing strategies through the years, Maggi has included freebies to its products, such as amusing books, toys and even free samples.
Maggi also offers Scratch n Win Schemes and discounts. Maggi also enlisted a number of celebrities including Madhuri Dixit to endorse brands. This is the final part of the Maggi Marketing Mix.
Digital Marketing Strategy of Maggi
Maggi, one of Nestle's well-known brands, places a lot of emphasis on digital marketing strategy.
The company uses a sharp engagement approach across all of its social media platforms as a part of its social media strategy, relying on the advantages of each to spread its message and control consumer involvement. 
The Maggi websites' user experience is also good and they have given recipes on their website, to drive more traffic to their website. 
To boost the Maggi brand, the company is aggressively using social media channels and developing a strong online presence. 
The business interacts with customers on Twitter and Facebook in addition to TV. Their brand-building method places a lot of emphasis on digital and social media.
Also, it is very important for any business to use competitor analysis SEO tools to make sure they are getting organically ranked on the Google SERP. 
Maggi's consistency in quality, its ability to understand the demands of society and its constant innovation have enabled Maggi to take over 90% of the market share in the instant food category Line of business.
Coming to marketing strategies of Maggi, their effective keyword research for on-page SEO and social media strategies has also helped them maintain a strong online presence. 
Maggi is a major seller of instant noodles sauces, soups, sauces Bouillons, and other cooking aids. Different markets have different preferences for various products.
Was this blog helpful? Do you want to know more about such marketing strategies and digital marketing techniques? Join the advanced digital marketing course at Nexxa digital academy and learn digital marketing from the top digital marketing institute.