The real facts on Why every business need a sales funnel for business
BY  SREERESH K  |  JULY 28.
The vehicle slowed down and parked on the sideways
You slowly stepped out of the automobile .
Your eyes have stuck on a salwar suit adorned by the statue.
You hurriedly entered the shop.
Choose a salwar from the rack, ask its rate and finally decide to buy.
At last paid for the salwar.
You have passed through the sales funnel for business in the physical store.
Your attention has captured, you showed your interest by entering the shop; you expressed your desire by asking the price and finally you took action.
Let me explain what a sales funnel is in digital marketing.
As I told you earlier, I will elucidate an example.
You have a habit of scrolling down Facebook, not only you but also we all have the same habit.
Sometimes, our eye caught the attention of an ad on the sidebar, we clicked upon the link.surf through the landing page. Finally, we reached the website and took our action.
Right ?
That is why it is saying you must learn how to write Facebook ad copy attractively.because the ad copy must be alluring to capture the attention of your audience.
Ads are not only available on Facebook, but everywhere in google, in display networks, YouTube, websites, etc.
Each ad copy must be attractive and engaging , landing page .
So a sales funnel for business exists in physical stores too.
But it is easy to set up a digital marketing sales funnel .
Each step of the sales funnel directly impact the customer behaviour.
Knowing each step, crafting compelling content in each step has a crazy impact for your business.
By the way, let's dive into the sales funnel for business.
Look, what a sales funnel is and what comprises each step.
If you heard the funnel approach for the first time,
Check its definition.
A sales funnel defines the customer based marketing model that elucidates buyer's journey from the beginning to the purchase decision.- infographic image
Sales funnel for business explained – How all this works
Do you know there are different stages that an ideal customer goes through when they come into contact with your brand.
The typical marketing stages is given below.
Stranger-casual reader -subscriber- engaged subscriber- customer -brand advocates – infographic image.
Pre touch point
• Content
• Guest post
• Podcasts
• Visibility
Premier touchpoint
• Lead magnet
• Landing page
• Optin form
• Welcome page
• Thank you page
• One -time offer page
Pivotal touch points
• Email sequence
• Subscriber exclusive content
• Relationship building
Prime touch point
• Digital product purchase
• Delivery support
• Welcome onboarding
Post touch point
• Make them your heroes
• Testimonials
• Affiliate / referral programs
Pre touch point
This is the initial stage.
It is all about creating content and engage your audience.
Sometimes, your audience has no clue about your product or service.
So what you need is to create content in external channels like guest post, podcasts, social media, etc.
You must create an engaging headline, call to action and your promise must be great in value.
If you keep your promise, the audience is ready to take the next step.

Premier touch point
It is a point where your casual reader is ready to become your subscriber.
What do you need to do to make a new subscriber.?
Offer a compelling lead magnet or opt in incentive.
Wow !
What a powerful funnel approach
Pivotal touch point
I would like to call it the miracle stage.
Can you say why I called it a magical stage ?
Because in this stage, we create deeper content that gives values and teachings to your audience.
This is a stage is so special
You build a deeper relationship with your audience and nurture them right.
Give them valuable content very often, so that they will never leave or they will stick into your content.
Prime touch point
You have engaged customers, what makes them your engaged customers?
Any idea ?
Prime content will guide your ideal customers through the buyer's journey .
This inbound sales funnel will fall your customers into five stages.
1. Audience who does not know about the problem that your product or service solves.
2.those who are aware of the problem that your product or service solves but they have many questions in mind, they are getting attention and start trusting you.
3.they are aware of the problem at the same time, they love your content and they feel the product is right and fit for them but not ready to buy .
4. They are ready to buy but a lot of questions in mind
5. Its is the stage of your fans, they bought from you and are ready to buy more.
You want to move your audience from category 1 to category 5, with educating and empowering content.
So create an ocean of content that align with your product or service.
You have viewed the customer decision journey ,how each marketing stage serves the purpose and the importance of funnel scripts .
Whenever I describe a sales funnel for business, the very next question is how to build a sales funnel page and what are the types of sales funnel.
Let us have a look into types of sales funnel
Types of digital marketing sales funnel you must aware of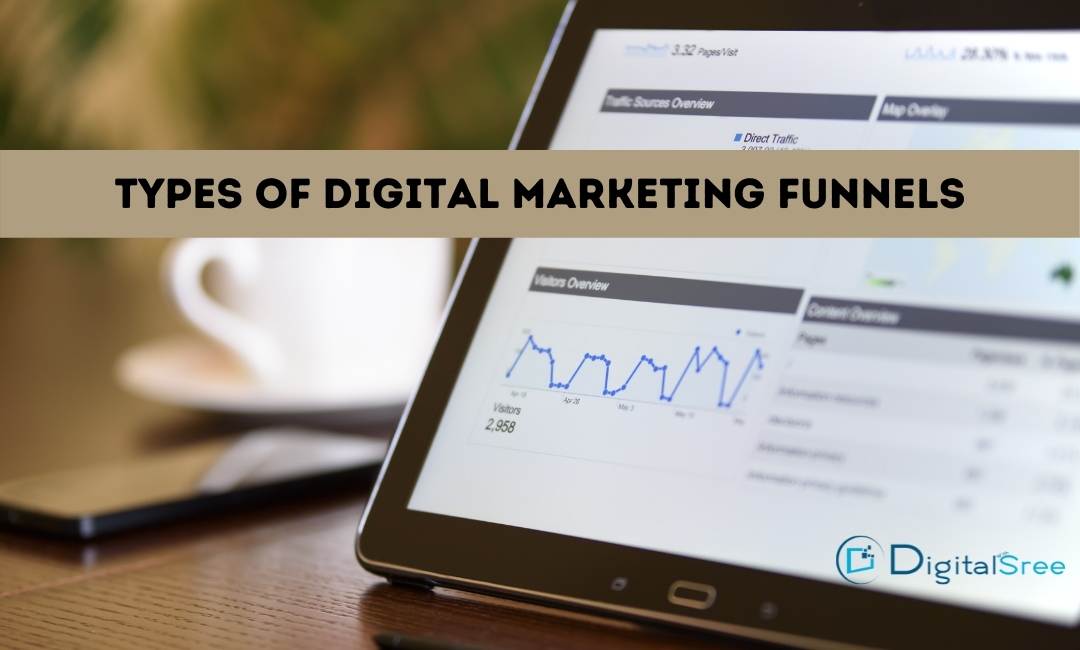 I am sure, you are excited to know about types of sales funnel.
Are you eager to try it out in your digital marketing service.
I will let you to use just like a digital marketing expert.
1. Self liquidating funnel
The self liquidating funnel is not to make profit but to acquire leads. In self liquidating funnel you are able to make tons of leads. Not massive profits.
Landing page – upsell 1> upsell 2
2. Automated webinar funnel
A webinar is structured in a way that you need to converse with your potential customers for a hour and finally they establish trust over you,Finally, they became your customers.
3. Lead magnet + email funnel
This is the most common email marketing funnel we encounter day to day life. It is used to sell something low ticket or rather for pitching, Because high – ticket things are not easy to sell through emails.
Lead magnet > lading page> email sequence >nuy your product > upsell.
4. High- end Client Sales Funnel
This sales funnel is suitable for high end products like coaching other high ticket matters.Here you need to talk to your customer, because people has lot of questions before they make big decisions.
Services page > Page with a pre-qualifying questionnaire (able choose to only talk to people who are your ideal clients) > Get on a free call > get conversion
5 . Free shipping sales funnel
This sales funnel often works for low-cost item like books. Here you are able to offer free shipping .once the book is delivered your customer will know your brand message.you can upsell your customers or sell more valuable items later.
It is important to note that you have to combine multiple funnels together.if one sales funnel doesnt work you can push your customers into another and convert them later.
how to build a digital marketing sales funnel page
I know you have stumbled upon brand funnel .A set questions irked in your mind?
How to create? What to consider etc..
Here are some simple steps to build best sales funnel .
You can build it fast.
Step 1 . Understand your audience behaviour
Before you prepare the sales funnel content, try to understand your audience. Whom your audience is, what is their likes and dislike.these understanding helps to create compelling content that align with buyers journey.
Step 2 Capture your audience attention
Capture the attention of audience is crucial in every aspect of online marketing. Today people tend to have less attention span comparatively.
Initially, find where your audience is and send as much as content like infographic content, videos , blogs etc.
Those content must be attention grabbing . If you are ready to spend on ads try it out too.
Step 3 .Build a landing page
Your content must take your audience somewhere in order to take action.what you need is an offer or instructional video that is captivating to the audience. You need to attach a bold call to the action button intermittently.
The intention of the landing page is collecting leads rather than pushing sales.
Step 3 Create an email campaign
Market your leads through emails. Send your prospects emails that are composed with quality content that is informational and engaging.
But don't send them very often.
Initially send an email with educating content include contents like how can they remove their obstacles or solve their problems with your service or products.
Step 4. Interact with them
Interact with them !
With whom??
Your existing customers, consider them.
Don't forget to send them , unless they will forget you.
While trying on customer acquisition, keep an eye on customer retention.
Best sales funnel softwares 2021
Sales funnel for business is mandatory to occupy more conversion.but as a digital marketing company or a digital marketing freelancer , you need to be proficient in creating sales funnel.
While building a sales funnel, don't forget whom your audience is and what is the solution you are going to offer.
Can you tell me what are the hurdles you have faced on the sales funnel journey?
How do you overcome the obstacles?