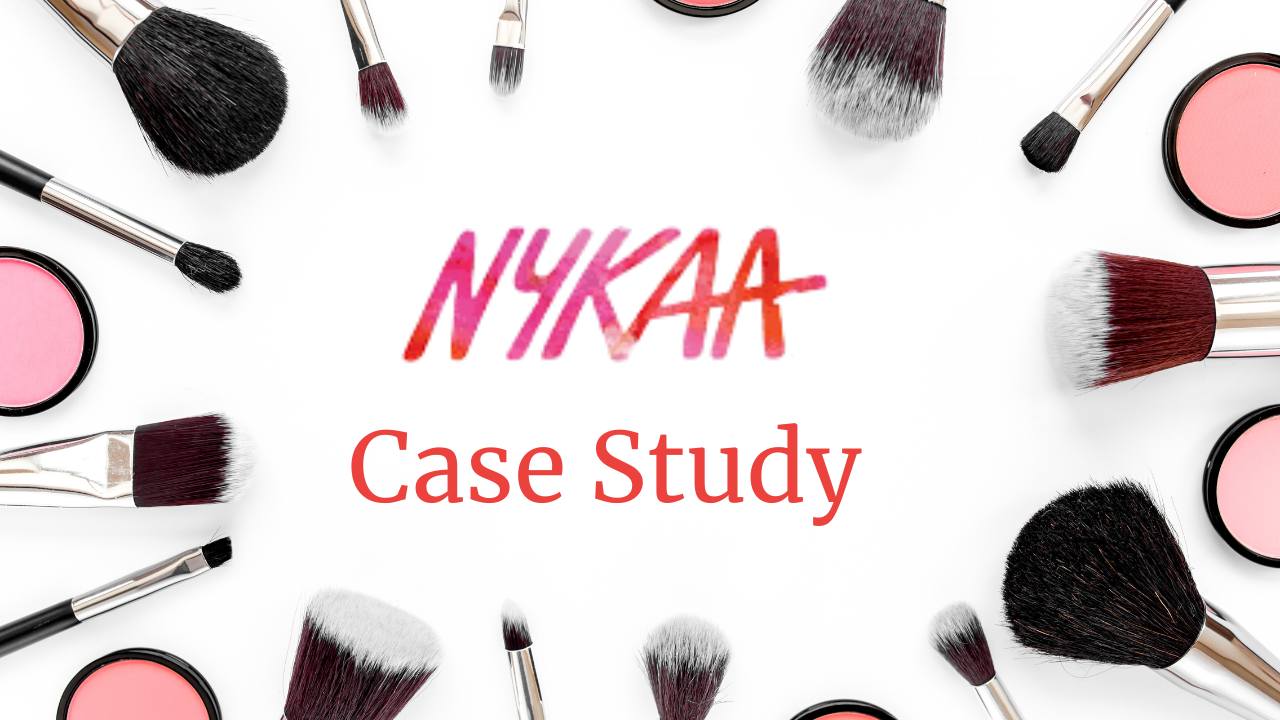 When we think about an online platform that sells beauty products, most people immediately think about Nykaa. Have you wondered how Nykaa managed to achieve this? 
It is through their stunning marketing strategies that Nykaa achieved this level of popularity and success in the Indian market. In this article, you will read a detailed Nykaa case study and its digital marketing strategies.
How Nykaa's journey started
Nykaa was founded in the year 2012 by Falguni Nayar. It was a normal day when Nayar happened to walk into a Sephora store and she was surprised to see the variety of beauty brands that were available in the store.
That is when she found her niche and thought why not start a similar store in India she realised that there was no such store in India that sold beauty products even after the demand for them was high.
Even though e-commerce platforms like amazon, Flipkart, etc were leading e-commerce companies, none of them had an e-commerce store, especially for beauty and skin care products. 
Nykaa was started as a one-stop destination for all beauty products including luxury products. With Nykaa being introduced to Indian consumers, they no longer had to struggle to get their favourite beauty products as everything was available on Nykaa. 
Nykaa even has its in-house beauty products that have gained a lot of popularity among Indian consumers over time. 
Now that you have got an idea about the brand, let's get into the case study of Nykaa.
Analysis of Nykaa's Business Model
Nykaa is one of the very few brands that follow an inventory-based business model. While there is a great risk of expiration of products while following this model, the brand can ensure prompt delivery to its customers through the inventory business model. 
So, to understand how the inventory business model works, let's see how Nykaa follows this model. 
The company purchases goods directly from the manufacturers and stores the stock in its warehouses.

Nykaa has their warehouses in Mumbai, New Delhi, Pune, Haryana, Bangalore and Kolkata. 

When the customers make an order, the products are directly sold from these warehouses.

If the products are damaged at the time of delivery, the company takes the whole responsibility.
It was after 5 years of operations that the company achieved its breakeven. At first, the cost spent by the company to acquire a customer used to be Rs.1000, which is now around 200-300 Rupees. 
Apart from its online stores, Nykaa has around 100 physical stores across India. And, Nykaa stores fall under two categories- Nykaa On-Trend and Nykaa Luxe. 
 In the Nykaa Luxe stores, you will find all luxury beauty brands and in the Nykaa On-trend stores, you will find products that are categorised based on their popularity and demand. 
Digital Marketing Strategies of Nykaa
We all spend a lot of time on Youtube, right? We watch different content on Youtube every day. Nykaa took advantage of this and started their own Youtube channel Nykaa TV. Currently, Nykaa has an immense 1.3 million subscribers on its youtube channel. 
This is not just a normal channel that shows the advertisements of the brand. Instead, the brand has collaborated with many influencers and posted useful beauty content on its Youtube channel, featuring these influencers. 
As this type of content is useful for the viewers and they will automatically subscribe to their channel and watch their content. 
The brand makes sure to post content regularly on its channel. Through their videos, they are not only giving their viewers about the beauty products and how to use them, but they are also helping them decide which products the consumers must get for themselves from Nykaa. 
Influencer Marketing of Nykaa
Nykaa makes use of influencer marketing while launching every new product. Each time Nykaa introduces a new product, they collaborate with influencers to promote its brand. The influencers create ' how to use ' video content and also review the products.
Content Marketing Strategy of Nykaa
A very important aspect of digital marketing is content marketing. Nykaa has always been able to provide quality content to its audience because of its strong content marketing strategies. They post interesting and creative content on their website.
The brand's content across its websites, blogs, youtube, etc are quality contents with creative ideas. As Nykaa's target audience fall under the age group 22-35, Nykaa has a set of young minds who can think and create content specifically for their target audience.  
Nykaa also has ranked its website on Google using SEO based on the Google ranking factors. They use top keywords and make sure that their products and blogs come first in the search result. 
Social Media Marketing Strategy of Nykaa
We are currently in a period where social media runs the world. There would be hardly anyone who wouldn't have at least one social media account. Instagram and Facebook are the most popular social media platforms, it is important for every brand to show its online presence through such social media platforms. 
Nykaa has also used social media platforms to maximise sales. They have a massive follower base on all social media platforms where they post regular content. The brand's posts also have 'shop now' buttons on them to take the customers to their products page directly from any social media platform. 
 When we talk about social media marketing, email marketing is very important in it. Whenever new customers register with the Nykaa app or newsletter, their email id is collected and the customers are then regularly updated about their latest deals and prices. 
When I said email marketing, I did not mean email spam. The brand will analyse and segment its audience based on their engagement and emails are only sent to highly engaged customers. 
Nykaa's splendid digital marketing strategies have made Nykaa one of the top 5 unicorn startups in India. The brand has a clear picture of its target audience and how to attract them. 
The brand never fails to introduce a variety of offers and discounts in the form of giveaways, contests, etc through its social media platforms. This helps the brand to generate leads across different geographical locations.
Who doesn't love discounts, right? So, through its social media platforms and website, Nykaa offers many coupon codes to its customers. Often, customers get many freebies from Nykaa when purchasing a product.
 Regular customers are also given small gifts along with their ordered products. All these have helped the brand attract more customers and in turn make their customers the brand advocates. 
It was in the year 2018, that Nykaa launched the Nykaa Network. The Nykaa network is basically a beauty platform where subscribers can share their thoughts on beauty, give or seek beauty tips and advice, etc. 
Recently, the brand also launched a new platform called Explore. On this platform, subscribers can browse through different beauty tutorials and at the same time buy any products shown in the tutorials from the same platform. 
 The brand, being owned by a woman, gives so much importance to the well-being and welfare of women. So, Nykaa has launched many campaigns over time to show its support for the women of India. Below are some of the campaigns launched by Nykaa. 
#WhatMakes YouBeautiful ft Laxmi Agarwal
  As I have mentioned above, Nykaa gives great importance to women and women's empowerment. For this campaign, the brand joined hands with Laxmi Agarwal, an acid attack survivor to convey a message to women that they can be any kind of beauty they want and makeup is just a simple tool to express and celebrate themselves. 
The campaign mainly wanted to talk about the beauty standards that are already set by the world and how women often feel bad about themselves. Nykaa, through this campaign, urged women to take a stand for themselves and not let society judge them based on pre-set beauty standards.
#BreaktheHasgtag Ft. Taapse Pannu
 Nykaa collaborated with the Bollywood actress Tapsee Pannu to celebrate the multi-talented and multi-faceted women of India. Tapsee Pannu said that women play different roles in their lives as homemakers, entrepreneurs, actors, bosses, etc. So the campaign encourages women to break the stereotype and show the world that they are strong. 
Women's Day Special Campaign by Nykaa
On women's day, Nykaa organised a special event for women. There was a wellness section as part of the event, that was dedicated to mental health, fitness and skin analysis.
 In the skin analysis session, foundation shades that match the skin solar of the women taking the analysis will be recommended along with special skin care tips.
Nykaa makes use of every online platform to generate sales and make the customers their brand advocates. Nykaa's success started with the identification of a 'need' by Nayar. 
Did you enjoy reading this blog? Do you wish to apply such successful strategies for your business or learn how to create unique digital marketing strategies? 
Enrol in the advanced digital marketing course at Nexxa digital academy. This course is for anyone who is interested to build a career in digital marketing or start their own business. 
If you found Nykaa Case study informative, kindly share your thoughts below.