In this blog, unlocking the secrets of the successful marketing strategy of Patanjali. Patanjali is an Indian consumer goods company that specializes in Ayurvedic products. Their marketing strategy focuses on promoting the benefits of natural and herbal ingredients in their products, enlarging their traditional roots, and the use of antique Ayurvedic knowledge. This marketing strategy also discusses the Patanjali case study and swot analysis of Patanjali. And more related case studies like : Lenskart case study ,  Zomato case study
Marketing strategy of Tata motors ,
ABOUT PATANJALI AND PRODUCTS
Patanjali Ayurved limited is an indian consumer company. It produces herbal ayurvedic organic food products, lifestyle products, skincare, etc..the company was founded in 2006 by Indian yogi Baba Ramdev and Acharya Balkrishna. The company has grown promptly in recent years and is now the largest FMCG company in India. Patanjali aims to elevate the use of ayurvedic and herbal products to improve individuals' universal health and well-being.
 The company offers a wide range of products, including food and beverage personal care items and home care products. Some famous Patanjali products include;
 Patanjali Ayurvedic Medicine:  Patanjali offers a wide range of Ayurvedic products for various health conditions such as arthritis, diabetes, and digestive issues
 Patanjali Food Products: Patanjali proposes a wide variety of food products involving honey, ghee, atta(flour), and spices
Patanjali Beauty Products: company offers a diversity of products like face 
wash, soap, shampoo, and skin cream
 Patanjali Herbal Supplements: Patanjali offer a variety of herbal supplements for various health conditions like weight loss, immunity, and stress
Patanjali Home Care Products: the brand offers a variety of home products, including mosquito repellents, cleaning products, etc.
MISSION AND VISION OF PATANJALI
Mission; to provide high-quality natural and ayurvedic products that provide health and wellness for all individuals
Vision; to become the leading global in the natural ayurvedic product industry, promoting the principles of ayurveda and traditional indian medicines and making them accessible to the people worldwide
Dabur India Limited
Himalaya Drug Company
Baidyanath

Zandu   
Emami Limited
Hamdard Laboratories
Amrutanjan Healthcare Limited
Jiva Ayurveda
Maharishi Ayurveda
MARKETING STRATEGY OF PATANJALI
Patanjali Ayurved Limited, founded by Baba Ramdev and Acharya Balakrishna, is a leading company in the Indian ayurvedic market. The company's marketing strategy is using natural and herbal products to indicate their effectiveness and disposing of them as healthier than traditional consumer goods.
Another marketing strategy of Patanjali's use of celebrity endorsements is Baba Ramdev, the company's founder, who is a well-known figure in India. It is customarily featured in the company's advertisements. It is helped to build trust and credibility for the brand.
One of the marketing strategies of Patanjali is to use traditional marketing, such as television and print advertising. The firm has also invested heavily in digital marketing, using social media platforms and e-commerce to reach a wider audience.
The company is also interested in building a good relationship with the customers through various initiatives, such as offering promotions and discounts and engaging with them through digital platforms.
Marketing strategy of Patanjali in addition, the company has a strong distribution network with products available in the supermarket, grocery stores, and traditional retail outlets. It helped to increase the brand's visibility and accessibility to consumers.
Generally, the marketing strategy of Patanjali generally focused on building a strong brand image, increasing brand awareness, and promoting the use of natural and herbal products through its various initiatives. The company has established itself as a leading company in the Indian Ayurvedic Market.
DIGITAL MARKETING STRATEGY OF PATANJALI
  Patanjali, an Indian consumer goods company, has implemented a comprehensive digital marketing strategy to promote its products and increase awareness. The company has a strong presence on social media platforms such as Facebook,instagram, and Twitter. and also whats app marketing in India
The company also has a well-designed website that exhibits its products and provides detailed information about the ingredients and benefits of each product.
They have a well stratagy on social media marketing strategy for e-commerce.
In addition to social media and its website, Patanjali has also been exploited. The power of video marketing by creating engaging content on YouTube has helped increase brand awareness among the target audience.
The company has also collaborated with influencers and celebrities to promote its products and increase its reach.
Patanjali has also been involved in an e-commerce strategy. the products of Patanjali are also available on Flipkart Amazon, and,myntra which has helped increase  Reach and sales.
The company also has a good investment in Search Engine Optimization(SEO) to improve visibility on search engines, making it easier for customers to find its products.
Overall, Patanjali has executed a well-rounded digital marketing strategy. That has helped to increase its reach and sales, making it a well-known and trusted brand in the Indian market. They have a huge investment in digital marketing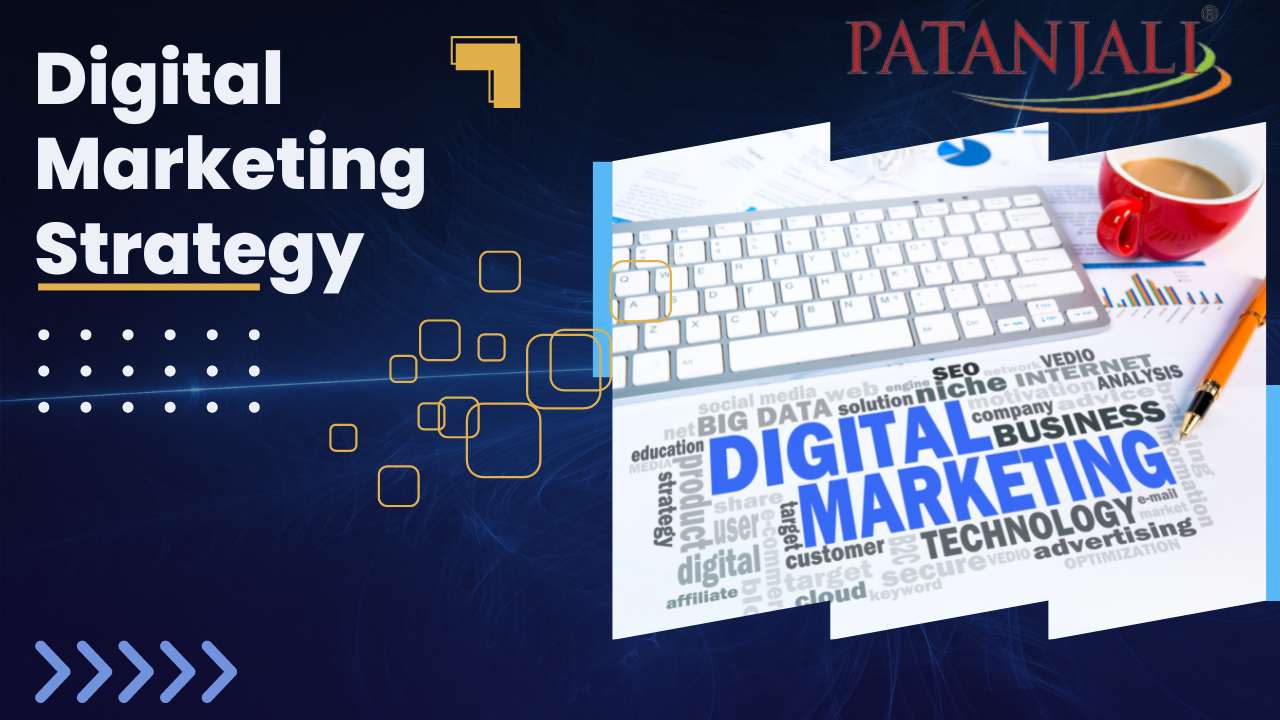 SWOT ANALYSIS OF PATANJALI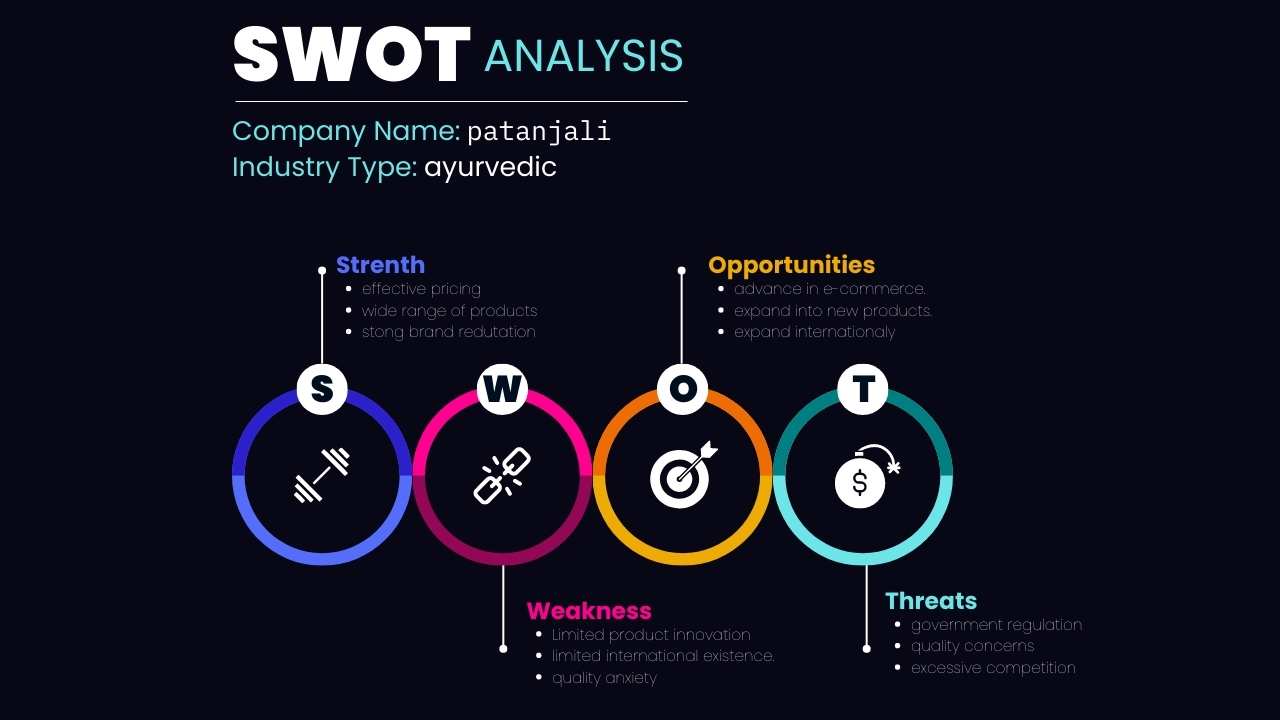 Swot analysis – swot analysis is the strategic planning used to estimate a business organization's strengths, weaknesses, opportunities, and threats.
The swot analysis aims to identify and exact the internal and external factors that can impact the firm's ability to achieve its business objective.
In a swot analysis, analyzing the  strengths and weaknesses are internal factors, and opportunities and threats are external factors.
Swot analysis of Patanjali has a major role in the indian consumer goods market,
Strengths;
Strong brand reputation; Patanjali has a strong brand image as a provider of natural and ayurvedic products, which has helped build a loyal customer base.
Wide range of products; Patanjali offers a wide range of products like food and beverage, home care products, life care products etc.
Effective pricing; Patanjali products are generally priced lower than its competitors, making them more attainable to a large segment of the population.
Founder; Baba Ramdev, the founder of Patanjali, is a well-known person in India who helps improve customer reliability.
Strong distribution network; Patanjali has a strong distribution network that includes its retail shops and a partnership with retailers and distributors. It helps to reach products among a wide range of customers.
weakness;
Limited international existence; Patanjali has only a strong presence in India.
But has  yet to be able to expand appreciably in other countries.
Quality  anxiety; some customers raised  anxiety about the quality of some  Patanjali products it is harmful to the company's reputation
Patanjali dependence on the reputation and image of the founder, Baba Ramdev
Limited product innovation; Patanjali has yet to bring new products into the market. It is a limit to attracting customers.
Patanjali depends on a single product category; it heavily depends only on its FMCG products and has yet to diversify into other segments.
Opportunities;
Expand internationally; Patanjali could take advantage of the growing demand for natural and ayurvedic products in other countries and expand its international presence.
Expand into new products; the firm could consider diversifying into new product categories, such as healthcare products, to expand its customer base further.
Advance in e-commerce; Patanjali could make more e-commerce platforms easier for customers to purchase its product online.
Threats
Excessive competition; Patanjali faces excessive competition from other consumer goods companies.
Quality concerns; Patanjali could be hurt by negative apprehensions about the quality of its product.
Government regulation; Patanjali could be impacted by any change in government regulation related to the production and distribution of its products.
Its dependence on a single owner; the company's success dependence on baba Ramdev, the co-founder of the company who is the face of the brand and has a strong influence on the companies strategy
Patanjali Ayurved limited is an indian Fast Moving Consumer Goods (FMCG) company founded in 2006 by Baba Ramdev and Acharya Balkrishna.the company for its wide range of herbal and ayurvedic products, including personal care, home products, and food products 
 Patanjali's success can be attributed to several factors. Firstly, the company has effectively positioned itself as a "swadeshi" (indigenous) alternative to foreign brands, capitalizing on the growing sentiment among Indians towards supporting domestic products. Additionally, Patanjali has successfully marketed its Ayurvedic and herbal products as healthier and more natural alternatives to traditional Fast Moving  Consumer Goods ( FMCG )products.
 The Patanjali company also have a good distribution network and retail shops in all areas. 
The company has been able to  expand  international markets, with exports to several countries in Africa and Asia
 The company has also faced criticism and dispute. The company is also safe with the goodwill of its safety and quality of products, and they use a disputed marketing strategy. 
 An effective branding and marketing strategy helped Patanjali gain popularity in the Indian consumer market. The demand for ayurvedic and herbal products helps to grow the market. The company also needs some help in terms of the quality of products.
 In conclusion, the marketing strategy of Patanjali focuses on leveraging the brand's strengths, such as natural herbal and ayurvedic products, as well as its appeals to a growing number of consumers looking for healthier and sustainable options .this can be achieved through targeted advertising campaigns strategic partnership and well base in social media platforms that help to improve brands value and mission. Additional investment, innovation, and product diversification help improve Patanjali to reach a wide range of consumers; it also helps it to be more competitive in the market. Finally, Patanjali has a clear and consistent brand message and a good commitment to maintaining the quality and sustainability of products and maintaining the loyal customer base of Patanjali.