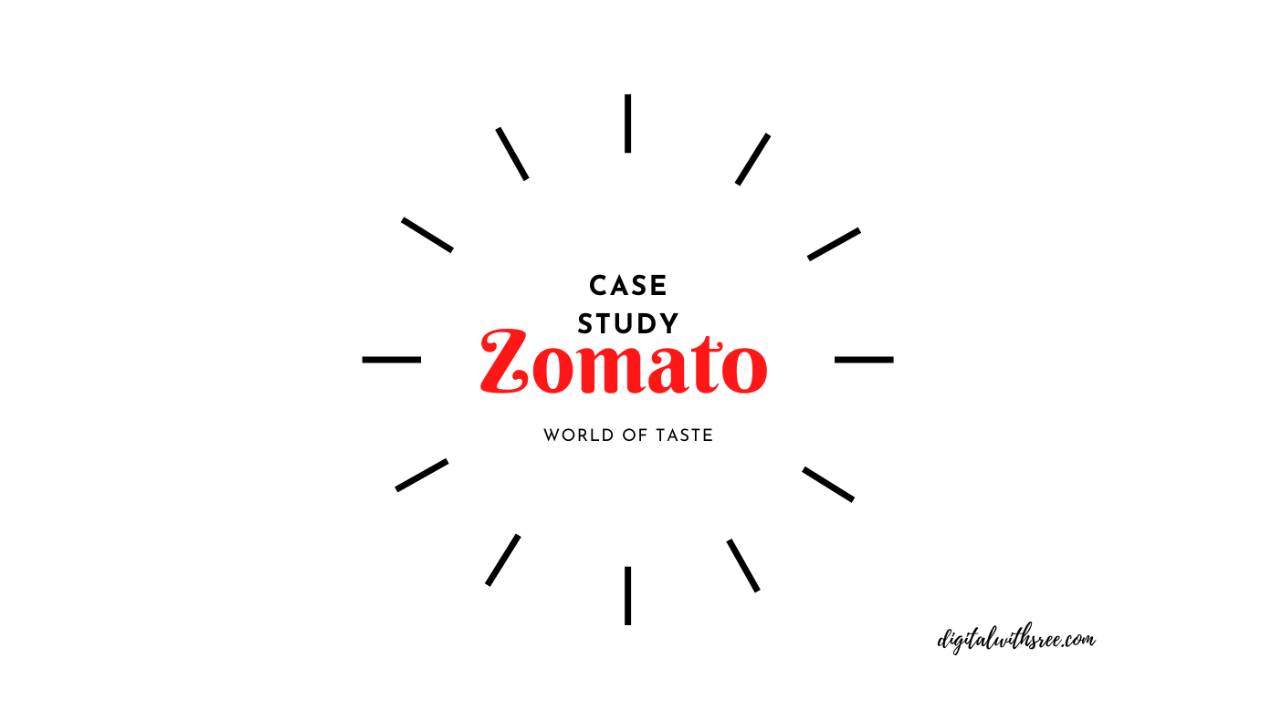 We all love foods in that we love fast foods more than homely meals, or we need more time to prepare our favorite food.
Then we all think about the online food serving platforms; most people choose zomato to order their favorite foods quickly.
Have you ever wondered how zomato gets easily famous and how they control the entire market of online food serving platforms in India?
In the zomato case study, we are going through the stunning marketing strategies that zomato achieves this level of publicity and success in as an online food serving platform.
This article will give you a detailed zomato case study and its marketing strategies. We also provide different case studies like lenskart case study, nykaa case study , flipkart case study.
HOW ZOMATO STARTED IT'S LIFE
Zomato started its service in 2008 by Deepinder Goyal and Pankaj Chaddah in Mumbai; they are the founders of the big theme of serving food online,zomato.
When they started this theme zomato, it dealt with the menus ratings and reviews of restaurants. After that, they started to provide food to the consumers with the help of their restaurant partners in the nearest cities.
But nowadays we get their service in 24 countries and more than ten thousand places worldwide. We all love to try new flavors of foods, so we get a chance to try different types of foods in our favorite places with the help of zomato.
Zomato's case study, success story, marketing strategies, and entire journey can serve as a guiding company model for Indian entrepreneurs for years to come. Similar to a typical start-up, Zomato has had many ups and downs.
Due to this, numerous entrepreneurs can gain a lot from digging into the details of what Zomato has accomplished to get the highest level of success in food delivery.
In this post, we will take a good look at the entire journey of Zomato, its marketing strategies, and how it shaped the online food-ordering-and-delivery system in India.
Did you realize that Zomato has a presence in 24 cities and countries? Zomato only offers food delivery services in some countries, but it provides much information regarding menus and user reviews.
Zomato has gone through several funding processes since 2010. Sanjeev Bikhchandani's Info Edge India invested $1 billion. In 2013 Info edge again invested $13 million to get 50% authority on zomato.
After the 2013 investment of $13 million by Info Edge India, many other investors like VY capital Sequoia Capital and Temasek have provided unspecified money to zomato for the expansion.
The case study of zomato says that at the end of the year, zomato had received more than $300 million. Through this fund, zomato can easily expand its service to different places.
Zomato has raised $660 million in the Series J round that Tiger Global Management and Kora led. The company's total funding was increased to $3.9 billion.
THE IDEA BEHIND THE ZOMATO
The idea behind the zomato was interesting when they saw people lining up during lunchtime to take a place to buy their lunch.
Then they took photos of the menus of restaurants and uploaded them to the company's private network. Everyone at the company accessed the company's private network. Deepinder and Pankaj observed the sudden reach of the volume of that site within a couple of days.
This led them to the idea of launching a website named "Foodie by," where the users can easily get the menus reviews and ratings of the different restaurants with the help of the internet on their laptops. The website soon covered hundreds of restaurants in major cities.
The founders considered rebranding the website with a catchy name so that the public could easily remember the name and the brand's symbol. So the brand can
ZOMATO MARKETING STRATEGIES
The zomato marketing strategies are entirely different from the traditional marketing strategy and the marketing strategy of the competitors of zomato. Now a days we all are using digital marketing experts. In digital marketing include email marketing, whatsapp marketing etc. Digital marketing is a short term courses for ladies and many other companies invest in digital marketing.
Here the zomato case study presents some zomato marketing strategies used.
Social media we know that social media is a big marketing platform for all brands and companies to introduce or market their product and services to the public easily at a low cost.
But zomato is entirely different from this; they don't use the traditional corporate manner. They think differently from this; Zomato believes in creating humorous, playful, or sacrificing posts. By this, they can easily appeal to youngsters.
This is why most posts get viral on Twitter when we compare them with other companies. They concentrate on pay-per-click (P P C) advertisement and youtube marketing.
Pay-per-click (P P C) advertisements: zomato invests a lot of money in pay-per-click (P P C) advertisements on search engines and social media sites like Facebook, Twitter, and instagram. While seeing other advertisement posts on other sites, we can see their images of foods and services are attractive. That's why zomato gets many new customers through social media.
Youtube marketing is another one which is more concentrated by zomato for marketing. Zomato is very well aware of the presence of video marketing.That's why we are greeted with different types of advertising videos that zomato does. While watching the advertisement videos of zomato, we don't get attracted to the food; instead, we get bored. Sometimes the videos may make us think; sometimes, they make us laugh.
This is the major marketing strategy used by zomato. This marketing strategy is very common and used by all other companies too. But the theme and concept of the videos and posts of zomato make them different from the advertisement posts, and videos done by other companies.
In India, zomato is facing many competitors, but swiggy is the direct competitor. In the past, zomato faced big competition from uber eats, but zomato buyed uber eats for $206 million in a deal. After that, zomato holds a monopoly over food service delivery in several smaller cities such as Chandigarh, Mohali, and Panchkula.
After it, zomato introduced contactless delivery during the covid-19 pandemic. The online market and online businesses are developing or becoming more famous in the time of covid 19; also, many businesses are closed.
But zomato introduced a different method at that time. They delivered food to the consumers by the temperature of all delivery drivers and were tested several times daily. They are required to wash their hands before taking any orders.
The company has stopped accepting cash on delivery (COD); instead, they received any electronic payment method. When the company drivers delivered the order to the front of the office, they left the place to avoid interaction between the employees.
So that way, they can easily avoid the chance of inflicting or transmitting the virus. Through this, they can become safe for both the deliveries and the consumers. This method allows the zomato to survive the time of covid 19 easily.
HOW ZOMATO INFLUENCING IN OUR LIFE
Zomato influences our lives. Most affected persons are business people trying to expand their business at a low cost. Zomato is helpful for people like that. They can easily register their restaurant name, menus, ratings, and also reviews of their customers. So they can easily sell their goods and services through zomato.
It is also very helpful for consumers; when we are busy with our job, we can easily order our food with zomato with the help of an internet-connected device like a smartphone, laptop, etc. We want to save our time ordering the food. The payment method is also easy in zomato. We can easily pay the bill with google pay or any bank transfering.
This is more helpful for homemakers who also go to the office for work when they are tired and don't want to cook after their job. They can order their favorite food from zomato. In this way, zomato is influencing our life.
REASON WHY ZOMATO SUCCEED
There are many reasons behind the successful launch and growth of zomato. But here we present some of the important reasons that make zomato succeed.
First mover:- as we all know, India was unfamiliar with the concept of "online food ordering" at the time zomato started its works of online food ordering. So they have the first mover opportunity and advantages.
The continuous flow of capital:- while reading the top part of our blog, you can easily recognize that zomato can easily convince investors. So the continuous flow of capital is a big reason for zomato to increase or develop the business and achieve its goals easily.
A strong network of restaurants and delivery valets:- Nowadays, the power of zomato or the relationship between the restaurants and the delivery valets in zomato is strong. So zomato has a good network of restaurants and delivery valets, making it very easy to deliver their food very fast.
Aggressive marketing:- it does not matter which type of marketing is done by a traditional method like TV, newspapers, etc., or the modern method that involves social media search engine zomato has branding.
These are some reasons that make zomato succeed and continue the success in the future.
This article will provide a valuable zomato case study, its marketing strategy, the success story behind zomato, and the funding acquisition of zomato. The successful launching and growth of zomato will be more helpful for new entrepreneurs who want to be encouraged to start up their ideas in the future.