Nowadays, the dropshipping business in India is in fast gear as everyone wants to earn money. And there are countless opportunities on the internet for everyone to earn money as a result of digitalisation. 
It is not an easy task to start an e-commerce store as it includes a lot of work like marketing, shipping, inventory management, sales, etc. The solution for this I have today will help you to overcome most of these problems like Inventory and Shipping. The solution I am talking about is Baapstore, India's best dropshipping platform. In this blog, I will do a detailed Baapstore review. 
Dropshipping is a business model where you promote products and offer an online storefront. When a customer places an item on order, you send it to the drop shipper. Customers are informed that the product is on its way. 
You are not responsible for the fulfilment process. Dropshipping agreements may allow you to handle customer service while the dropshipping company manages physical goods and fulfilment.
Dropshipping is a process that depends on the arrangement. However, dropshipping generally follows this general sequence.
Dropshipper signs agreement with the seller

Orders by customers can be made online.

The seller gets the order.

An order confirmation is sent to the customer.

Dropshipper receives the order from the seller

Dropshipper ships your order.

The customer receives the product
An entrepreneur who wanted to start an e-commerce company without a storage network would have been ridiculed up until a few years back. 
That was before dropshipping came into the scene. Baapstore was launched in the year 2016 and was one of the first to enter the Indian dropshipping market. 
For more than 8 years it expanded exponentially in the market. The huge retailers like Amazon, Flipcart, etc. were taking over, it became becoming increasingly difficult for smaller retailers to make a go of the world of e-commerce.
In the hope of maximising the profit of customers and providing access to thousands of items to sell under their own names, BaapStore was born. With BaapStore the customers will focus on revenue and sales alone, and everything else from inventory to delivery will be handled for them.
The startup currently works with more than three lakh businesses and offers 50,000 products. It is now helping aspiring entrepreneurs succeed by providing a robust retail chain management system that manages all aspects of e-commerce, from creating a catalogue to delivering the product to their doorstep.
The operation of Baapstore is simple and within a short time, you'll see yourself selling your products online and making income from it. When you buy the BaapStore plan, you will gain access to their entire inventory of 10,000+ items at wholesale costs.
After that, just fix the MRP and begin selling the product through Whatsapp, Instagram, etc.BaapStore delivers the goods to buyers on your behalf.
When you begin an online business from the scratch, you'll have to purchase hundreds of items. In order to purchase inventory, you have to invest huge amounts of money. Also, there's the problem of losing money. The more items you have the higher the chances are of them not being sold.
The thing I liked most about BaapStore was the fact that it allowed me access to more than 50 lakhs worth of goods. Initially, I thought it was fair as I had bought my Diamond plan. After that, I was amazed to find out that BaapStore gives unlimited inventory worth of lacs to all users regardless of the plan they choose.
BaapStore continuously replenishes the items that sell the best on the market and keeps updating its database over the course of a set period of time.
No matter what pricing plan you choose, this inventory is available at zero cost. BaapStore is responsible for refilling products that are most popular in the market. The store also regularly adds new products.
Coding Knowledge is not required
BaapStore is easy to use and requires no prior programming knowledge. The platform is easy to use even for non-technical people.
Products are well-categorised
BaapStore does a great job categorizing products. BaapStore has simplified sections that make it easy to find the product quickly. The owner can then easily start a drop-shipping business for various products.
White labelling of brands
As BaapStore allows me to sell my products under my own name, it also lets me determine my own selling price and supply the products to me at wholesale prices. 
In this way, my customers do not have to know the fact that BaapStore is actually the one that gives me the goods. Instead, they will be seeing my company's name in the shipping and the orders they make.
One more thing that I absolutely loved about them is that prior to purchasing the dropshipping service when I looked through their catalogue of items. It was amazing that they don't have a limit on the number of people who are able to view their extensive selection of items.
The ability to list products was also amazing. There are a variety of categories to select from and listing a particular item by hand is as easy as listing all of the items simultaneously.
Hosting, E-commerce and marketing
I purchased the diamond package. So naturally, I was awarded my own online store. Bronze members don't have websites. 
In addition, I also had a domain for free and could select the layout of my website from a variety of designs and themes. I was pleased to find that the site was mobile-friendly. If it wasn't it could have been a huge disappointment. Integrations for shipping and payments were excellent. I had no issues using the payment processor since I had complete administrator access to the site. 
Furthermore, BaapStore offers free web hosting, with SSD storage as well as SEO solutions to customers who are diamond users.
Baapstore is a great marketing strategy. For me, the most effective tool worth a mention is unlimited access to banners. Banners are expensive in a single time to get them designed. 
As an Indian, I have to use different banners for various occasions and celebrations. This has certainly prevented me from the expense of banners. We could also develop our own coupon codes that draw more customers in and also to lure customers with electronic gift vouchers too.
Baapstore's delivery options are splendid it covers over 26,000 pin codes in India. The store also has an international shipping option for its customers. However, international shipping has some extra charges unlike delivery within India. 
To make this possible, Baapstore has integrated with top courier companies across the world. All their products are dispatched on the very same day the order gets placed. Their inventory is always in full stock and this makes it possible for them to provide the best service to their customers.
It is very important to make sure that the product page is informative and user-friendly. This will be useful to the users to decide if they would like to buy the product or not. 
Below are the details that Baapstore has included on their website to make it easier for their customers to purchase products: 
Filters to  sort out the products based on price, size, gender, popularity, etc

Wishlist 

Every product has a title, description, keywords, etc

Same-day delivery option is available

Buyers have the option to compare different products before purchasing

Guest checkout with no sign-in
Marketing strategies of Baapstore
Baapstore offers many great marketing tools like email marketing, gift vouchers, affiliate marketing, coupon codes, referral codes, etc, for their resellers to grow their business.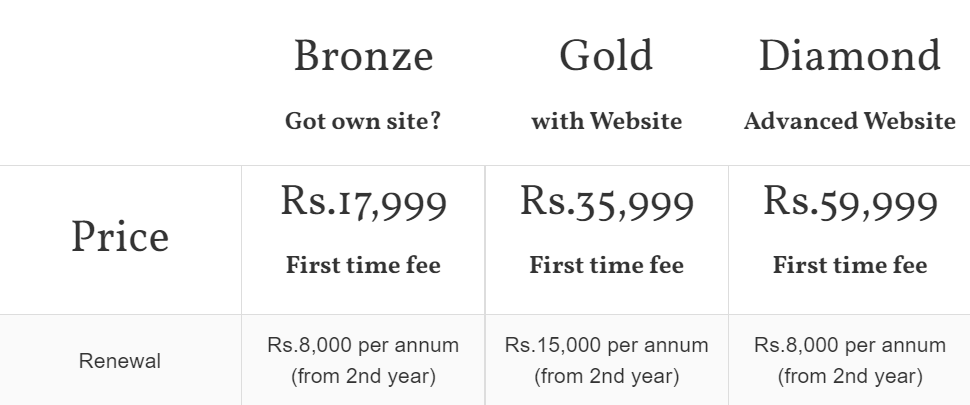 Baapstore offers three pricing options for its customers. They are- Bronze Gold, Diamond, and Bronze. The charge is one-time and the fee is minimal, recurring every year. 
Based on the plan that you choose, you'll receive different services and offers. The Diamond package is the most advanced package as it contains everything BaapStore can offer.
Pros of Baapstore
Free SSL certificate

Management of exchange and return

Cross-platform sales via Amazon, eBay, Flipcart, etc

Cross-platform sales via Amazon, eBay, Flipcart, etc

Option for cash on delivery available

24/7 phone and ticket support

Unlimited products at wholesale prices
Cons of Baapstore
So far, there are no cons that I found about this platform
The main question is, is BaapStore worth the money or not? There are a few services for which I could not find a single mistake. Baapstore could be one of the few. There was no reason to complain and this is the reason BaapStore is thought to be among the three top dropshipping sites in India.
I highly recommend you try Baapstore If you are looking to conduct business online and not have to worry about inventory, unsold items loss, delivery or marketing. BaapStore manages everything, from top to the bottom.
My opinion is that it's among the top dropshipping platforms I've experienced the privilege of being an integral part of. It has everything you need to run an online business and make the most profit without investing in the merchandise.