Consistent and quality content is crucial for any Business . 
"Content is the king". 
There are many reasons why content marketing is important for your business. Making content can help any business develop a relationship with its clients. Your company can respond to their queries and communicate with customers 
All that is on the content  nowadays! 
Nevertheless It's not always easy..
Even the most skilled writers are afflicted by writer's block. What if there is an answer to this  deadlock? 
Yes .. Peppertype
With the discovery of  the power  of AI, advanced Machine learning algorithms are dominating the market. This has a huge impact on every industry that is making use of AI. However, none has been more affected than writing content. 
The rise of AI-powered marketing businesses is the main driver behind this transformation. The next sector which will benefit from the use that AI can bring is content writing.
Artificial Intelligence promises to work on our behalf , making our lives more enjoyable, quicker, more efficient and simpler. Its capabilities are only restricted by the amount of data that could be processed.
There are many other  AI based content tool    available in the market that allow entrepreneurs and businesses to create content in a matter of seconds thanks to their ultra-fast technology.
But in this blog I will introduce such a tool which is doing great in the Digital Market. 
Just stick with me !
Peppertype -A Great Content Generator That Delivers Tangible Results – FAST!
Peppertype.ai  is an assistive tool built on top of GPT3, a language algorithm built by Elon Musk's Open AI,to generate short-form copies of content.
It's powered through machine-learning (AI) , which enables every creator to create speedy copies of content in minutes and connect business and creators to help grow their operations of content in the most efficient method to resolve your writing challenges.
Content marketing is the mainstay of the marketing strategy for years.
If you're looking to be successful in content marketing, then you must master the art of creating amazing content as it's Most Valuable Digital Marketing Skills , It is essential to write captivating and innovative content that entices viewers . 
The problem is that It's  quite a challenge

With the Peppertype  AI generator tool,  the burden of creating engaging and creative content is put to rest. This AI social media post  generator allows creators to make a variety of quality, well-curated ideas and content within 10 seconds.
Peppertype is the first step towards establishing an improved and more intelligent future for the creation of content.
Get a your's  today  : Peppertype 
Features of Pepper type.ai
The interface for users of Peppertype.ai is extremely simple to use. Once you register for an account, the main screen will appear as follows:
It provides a variety of scenarios to select from such as  Tweet Ideas, Blog Ideas, Headlines, Social Media Post Captions and Ad Copy and much more.
The user can pick any scenario and give information about his or her requirements. It will begin generating outputs in no time! But it it does not provide an intuitive user interface. It doesn't allow the user to easily scroll through and scan the options.
 2. Different Language Options
Peppertype ai provides 30 languages for its users. The platform allows users to create content not just for the audience of their own country but also for the viewers from other countries. It offers high-quality translations for websites, Apps , subtitles, and chats.
Peppertype ai offers more than 30 use cases that are grouped into one group. It provides a wide range of product descriptions and more. These tools help clients all over the world create content that is available in a variety of formats and styles like Blog as well as Tweet Ideas, social media and websites content and ad copies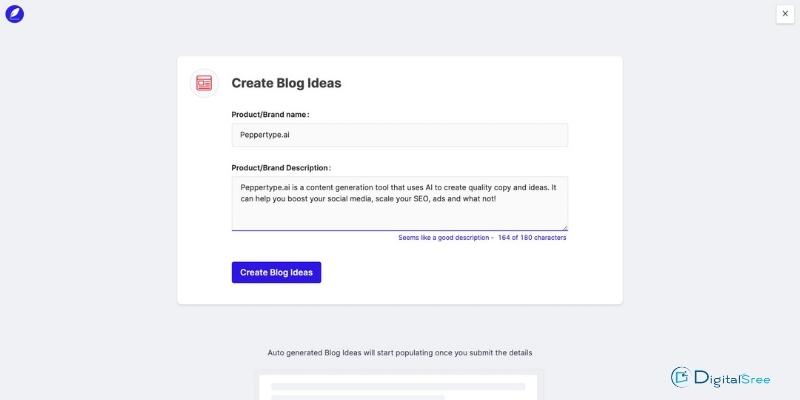 4. Scientific Copywriting Formulas Deliver the Best Quality Content
Peppertype ai has also introduced a number of instances that make use of formulas for copywriting like AIDA, BAB & PAS to deliver the best quality output that needs little or no editing.
The application of these formulas developed by scientists for copywriting is making waves in the world of content marketing.
Peppertype guarantees that the generated content is zero plagiarism and is high in quality. It can create an extended form blog perfect in just a few minutes.
It also provides a variety of options for formatting and ensures that the material created is precise and grammatically correct. It also ensures that the content produced is high-quality.
With Peppertype ai the user is able to manage their content effectively through the section Activity. It shows all results of searches and lets users browse through it and refer to earlier work.
Peppertype ai provides live support through its screen. It helps users solve their questions while using the application.  If you have a premium account, questions are dealt with at an upper level of priority.
New feature  – Beta is out – Go through the below link to know more about this feature
Benefits of Using Peppertype.ai
 ➥ It helps to speed up the writing process.
➥ It creates high-quality content in just a few seconds. It is a fantastic AI technology for content.
➥ You have to provide a product name or brand along with a brief description of the contents.
➥ It comes with a clear dashboard, and lets you view the analytics of your team.
➥ You can also create web-based content including headings as well as meta descriptions of products and other.
➥ You can save copies of your content within the dashboard.
➥ Regular updates for enhancements.
➥ You can create video scripts as well as podcast scripts with Peppertype AI.
➥ It offers excellent customer service.
Content  Types  You  Can  Generate  With  Peppertype.ai
Types  of  content  you  can  generate  with  Peppertype.ai are:
● Blog ideas and topics, introduction, outline, conclusion, main content, etc.
● SEO-optimized meta title and meta description
● Social media post captions
● One-liner quirky tweets and tweet ideas
● Facebook ad primary text and ad copies
● YouTube video topic ideas and video descriptions
● Amazon product title, features, and descriptions
● Engaging questions
● Informative Quora answers
● Website headline and sub-headline copies
● Compelling bullet points for email
● Brand and product description
● eCommerce product description And more!
Short-form Content and Long-form Content

PepperType   classifies its tools as either long-form or short-form content. It's essential to understand which categories you fall under to stay within your monthly character limit.
The following templates are included under short-form content:
● Google Ad Headlines
● Google Ad Descriptions
● Blog Ideas (Titles)
● Facebook Ads
● Product Descriptions
● Instagram captions
● Website Headlines or Copy
● Website SEO Meta Descriptions
● Website sub-headlines
● Tweet Ideas
● One liner tweet
● Value Proposition
● Product Review Generator
● YouTube Video Ideas (Titles)
● Feature to benefit
The following templates are included under long-form content:
● Blog introduction
● Blog outline
● Blog conclusion
● Blog section heading expander
● Pain-agitate-solution copywriting
● Before-after-bridge copywriting
● YouTube Video Description
● Compelling bullet points
Get a your's  today  : Peppertype 
Peppertype ai is a SaaS tool that generates enormous amounts of original content with just a few clicks. It's easy to use and produces an abundance of original content in a matter of minutes.
It's particularly useful to create product reviews and expand blog headings as well as posts for social media, and so on. It's an excellent method of creating distinctive content for your website. 
 One of the major concerns is that it doesn't offer a way to alter the content once you've created it. If you'd like to edit the content, then paste into a document editor.
This shouldn't be a problem for desktops, however it can be a challenge on mobile devices, which is why it would be ideal to have a method to edit the content in a direct way. In addition it's a fantastic method to make unique web content.
Peppertype.ai – PRICING DETAILS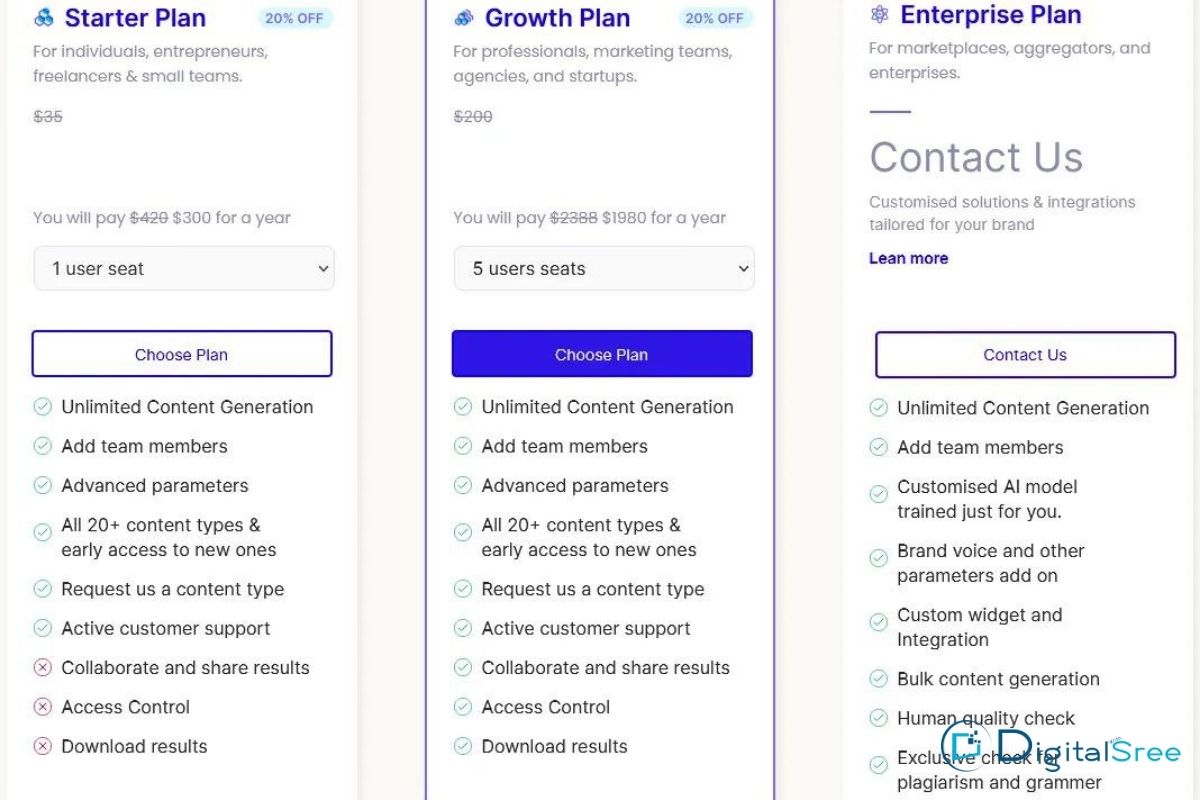 Plan

Pricing(Annually)

Starter Plan
1 user seat 

    $25 /month – billed yearly
Team Plan
5 user seats  
 $165/ month – billed yearly
Plan

Pricing(Monthly)

Starter Plan
1 user seat 

    $35 /month – billed monthly
Team Plan
5 user seats  
 $199/ month – billed monthly
How to get more words per day?
Reviewers can get an additional 20,000 words per month if they write honest reviews about their experiences with the tool. All you have to do is take a screenshot of your review and send it to their support team at support@peppertype.ai and wait for the changes reflected on your account. This applies to all tiers.
You can sign up for a free account to generate around 10,000 words before upgrading if you are still skeptical.
Marketing is focused on content today and  it's never been more crucial to create new, exciting, and high-converting content on your websites.
Overall  Peppertype.ai  is an easy AI copywriting tool that lets you write your copy in a matter of minutes.
It's perfect for blog posts, articles and landing pages email, ads emails, and even eCom websites.
If you're searching for the best  content writing tools that can improve your productivity and help make your company stand out, consider Peppertype.ai . Peppertype provides copywriting services using artificial intelligence at affordable costs.
If you are a blogger, Digital marketer or freelancer who needs to create content on a regular basis but finds it difficult to produce new content. The life-long offer makes it a great choice.
Get a your's  today  : Peppertype 
What Is Sitemap In SEO?By  SREERESH|  Date  :  05-JUNE- 2023    Home > Blog > EXACT URL FROM  SITEMAPIntroduction to Exact URL from SitemapIf your website's pages are linked correctly, Google will typically be able to find the majority of your site's content....