IMPORTANCE OF SOCIAL MEDIA COMPETITOR ANALYSIS
BY  SREERESH K |  JULY 10.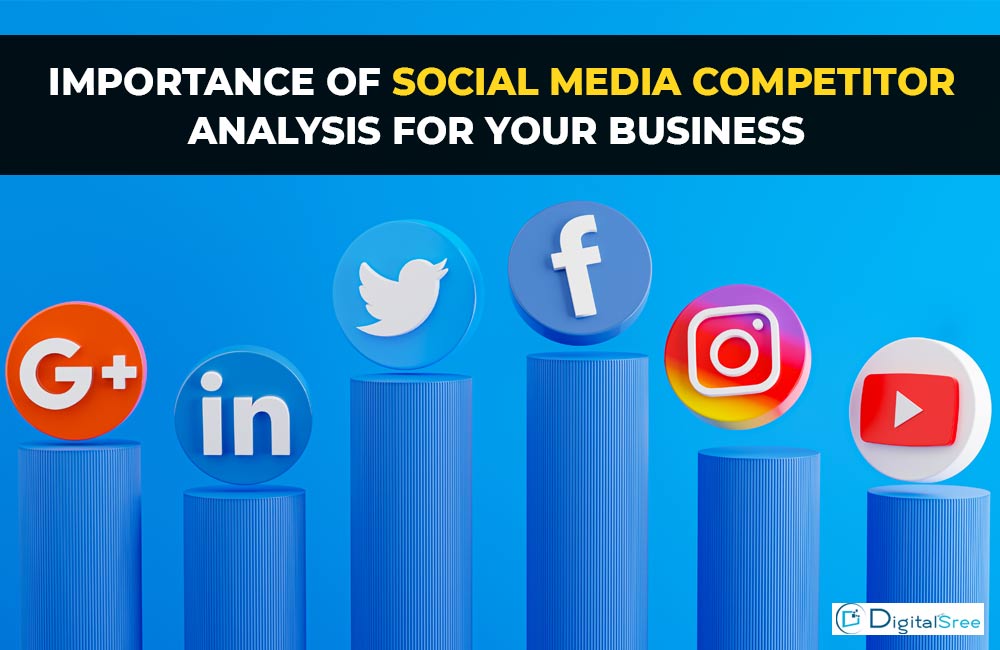 SAVE 70% OFF on Digital Marketing Full Training
"Wondering if you can stay ahead and win the social media competition?"
You are at the right place.
If you desperately want to stay top in the social media competition and if you are worried about it, forget all your worries;
Just start with social media competitor analysis.
If you are still in doubt then let me tell you the importance of social media competitor analysis for your business.
Social media competitor analysis is a type of analysis that is prepared for examining the social media competitors' performance.
It is a process of benchmarking your own results against your competitors in social media.
This process will make you able to identify the opportunities for growth and test new strategies that have worked for others.
Social media competitor analysis helps you to figure out:
Your competitors in social media

The platforms they are on

The strategies they are using

Their strengths and weakness

Weakness and social threats of your business

Gaps in your marketing strategy
What is the importance of social media competitor analysis for your business?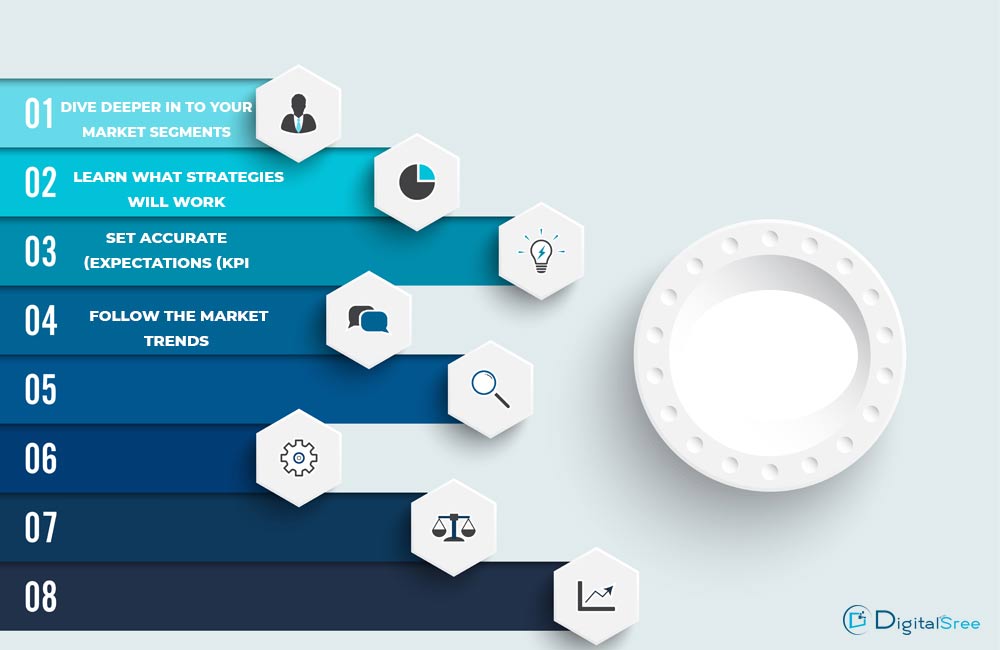 Social media competitor analysis is done to learn not only about your competitors but also the insights of our own business.
It will help you to:
1) Dive deeper in to your market segments
Social media competitor analysis helps you to analyze the weakness and gaps of your own business.
It gives you more insights into your own business and helps you to develop by analyzing the strategies of your competitors
It helps you to understand the social behaviour of your competitors and provides you with advanced ideas of your market segment's fares on digital platforms.
Social media competitor analysis helps you to figure out how you need to build your content strategy, how much effort you have to take, how you should inform people about your business offerings etc. even if your market segment is absent in social media platforms. 
2) Learn what strategies will work
Every business has different social media marketing strategies. 
While some rely on articles and reports, some rely on short video clips, product photos and other media posts.
Since not every social media works out for every business, you have to learn what type of social media marketing will help you and what social media marketing is popular in your industry.
Learn more social media marketing courses from the best digital marketing company.
Make sure that you are depending on tested strategies. Never rely on some experimental medium or content types on assumptions.
3) Set accurate expectations (KPI)
To set goals in your segments, you need to analyze your competitors and find their strengths for which clients choose them and the weaknesses which you can take advantage of.
4) Follow the market trends
A regular social media competitor analysis will help you to identify the market trends like hashtags, season sales, etc, and also the challenges in social media that your competitors have started and engaged in or participated in.
So conduct social media competitor analysis on a regular schedule to keep updated.
To become successful in social media competition it is essential to do social media competitor analysis. But how can we do social media competitor analysis?
 Let's take a look at;
Digital Marketing Full Course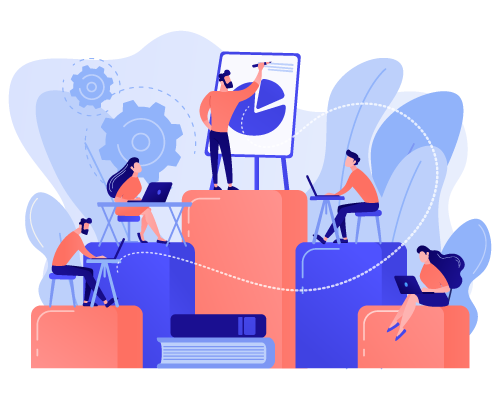 ☑ Best way to learn digital marketing
☑  Become a successful digital marketer
☑  Increase your traffic in 60 days or less
☑  Trusted by more than 30000 students
How To Do Social Media Competitor Analysis
Determine your competitors
Identify your competitors using your business keywords that you are trying to rank in your website.
 For identifying your competitors use google keyword planner for help as it is the best place for identifying the keywords. 
Besides primary keywords, you can also search your target keywords in the tool for identifying your competitors.
For that choose the most relevant keywords to your business and search them in google and find your competitors.
We suggest you to focus on your direct competitors first and the others optionally as direct competitors are the ones who offer products or services similar to you and indirect are the ones whose products or services can replace yours.
Analyze the competitors in social media
Identify your competitors on Facebook. Facebook has its library that includes ads that are running across Instagram and Facebook.
You can find your competitors by searching locations, account name, keywords, etc, and also you can see the impressions that ads received, demographic information on ads, etc.
 Collect
Since you have collected the list of your competitors, analyze their social media accounts, what they are up to.
Go through their social networks. Make a note of the following:
What social networks are the on

Number of followers

Post frequency

Engagement rate

Number of hashtags they use

Often used hashtags

Tonality 
You can find these information by clicking your social competitors' profile. Collect these information from your own account as well to analyze.
For conducting a social media competitor analysis these informations are essential.
 Analyze 
After gathering all information, the next step is to analyze.
Try to do a SWOT analysis.
A SWOT analysis helps you to get a more clear vision of your competitors and makes it easy to compare with your information.
S: Strength
W: Weakness 
O: Opportunities
T: Threats
SWOT analysis helps you find the strength involving factors in your business or brand as well as the competitors. 
Strength and weakness are the main factors you should focus on first to improve and win in social media competition.
Opportunities and threats are the factors that are based on external factors.
While conducting social media competitor analysis , followers, impressions, engagement, mentions and important metrics are also analyzed.
 Implement
After analyzing competitors' strengths and weaknesses, the gaps that can be filled now. It's time for implementing your social media content strategy
First, experiment with your new strategy and if it is providing you better results, continue depending on it.
It may include new unique content, customized hashtags for business. etc.
You can also use social media competitor analysis tools to get better results, and thus you can know how businesses use social media to connect with customers.
What Is Social Media Competitor Analysis Tool
As I explained before, social media competitor analysis helps us to identify data from dozens of networks, people, and activities. We can do analysis manually and by using tools also.
For conducting social media competitors analysis some tools are used. 
These tools help us to get better results and to improve your social media presence.
There are a lot of automated tools available for competitor analysis and it can make your work easier.
Benefits of social media competitor analysis tools:
Time saving 
These tools help to provide information in less time than you take in manual analysis. These tools are equipped in accomplishing the tasks whether it is single page analysis or different competitor analysis.
Provides you extra information
Since social media platforms do not let us know the engagement rate of the pages that do not belong to us, it becomes a hassle to calculate it manually. But for tools, they do it very well within less time.
Easy to review
You do not have to set up any excel or google sheet to gather the information if you are using the tools.
Here is a list of some social media competitor analysis tools
Sprout social

Brand watch

Buffer

Brand24

SEMrush

Similar web

SpyFu

Owler

Buzzsumo

Social blade

Hoot suite

Sendible tool
Here is a list of some free social media competitor analysis tools
Social mention

Similar web

Buzzsumo

SpyFu

Crayon

Ubersuggest

SEMrush
4 Best Social Competitor Analysis Tools for your business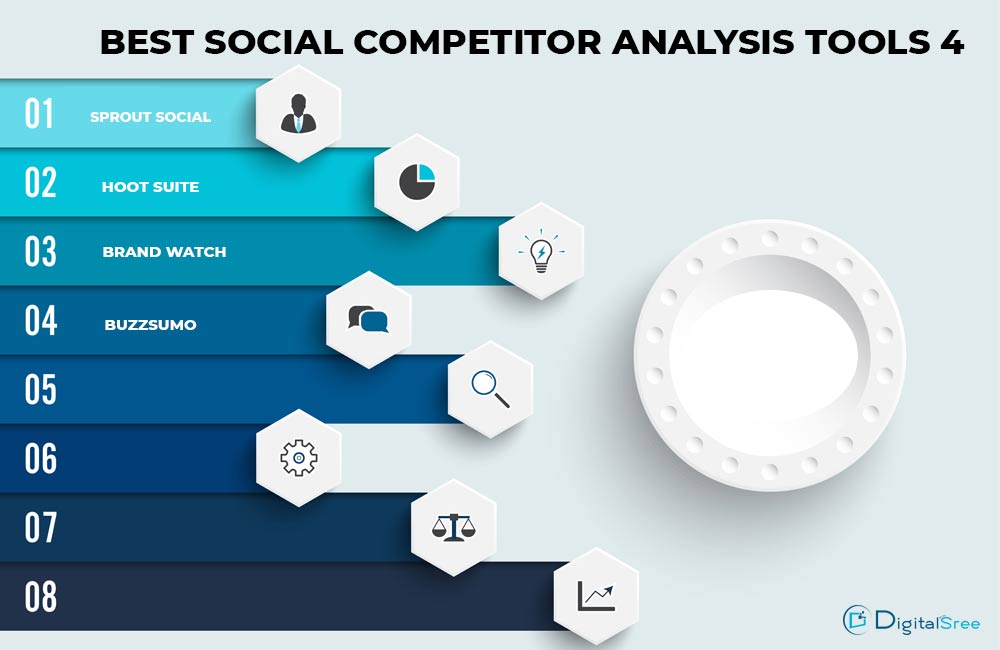 Sprout social
Sprout social is used for comparing key performance metrics and seeing what type of content performs best. 
It's reports can track fundamental metrics like audience growth,engagement, and post volume of each network. 
Using Sprout social you can examine your followers according to their demographic characteristics. 
Social media analysis tools of Sprout social
Campaign analytics

competitor monitoring

Post scheduling

Influencer tracking

Customizable reports

Multi channel data collection
 Hoot suite
Hoot suite is the most efficient tool in social media competitive analysis. It manages analyzing and listening to your content.
Hote suite follows your competitors specific keywords, hashtags by following their social media activity.
Social media analysis tools of hoot suite
Competitor monitoring

Campaign analytics

Customizable reports

Post scheduling
Brand watch
You can learn your brand's performance against your competitor with Brand watch social media analysis tool.
Using your insights it shapes and improves your social media strategy. It offers some powerful analysis tools.
Social media analysis tools of Brand watch
Competitive analysis

Influencer marketing

Trend tracking

Reputation management

Sentiment analysis

Audience segmentation
Buzzsumo
Buzzsumo helps you to find out your competitors' most shared contents or posts.
It is a cloud based platform that helps you to find trending stories, new keywords, customer queries and content success that are important and relevant to your brand.
Competitor monitoring

Influencer marketing

Trend tracking
Social listening competitive analysis and landscape competitive analysis for better results in your business
Social listening competitive analysis is the process of finding the strength and weakness of your competitors and comparing them with your own.
With social listening, you can measure your brand's online conversations by tracking it's share of voice and can compare it to others.
Social listening competitive analysis tools are used in social listening competitive analysis for monitoring and analysing about your brand or competitors or anything else, relevant to your company or business.
Landscape competitive analysis is the process of identifying your direct and indirect competitors. 
The wrap-up
Now you are prepared to conduct an effective social media analysis. We hope this guide has been helpful. Stay connected to us to learn more.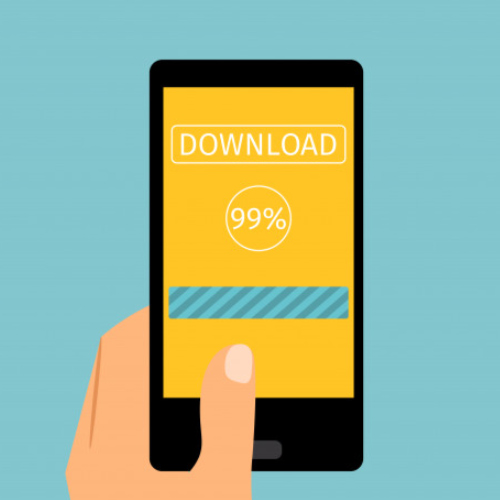 TOP INFLUENCER MARKETING AGENCY IN INDIA 2023By  SREERESH|  Date  :  25-APRIL-2023    Home > Blog > Influencer marketing agencyINTRODUCTIONIt is one of the social media strategies. It involves partnering with influential individuals or content creators to...