Google search console insights is now available for all users
BY  ASWIN VISWANATH  |  JULY  18.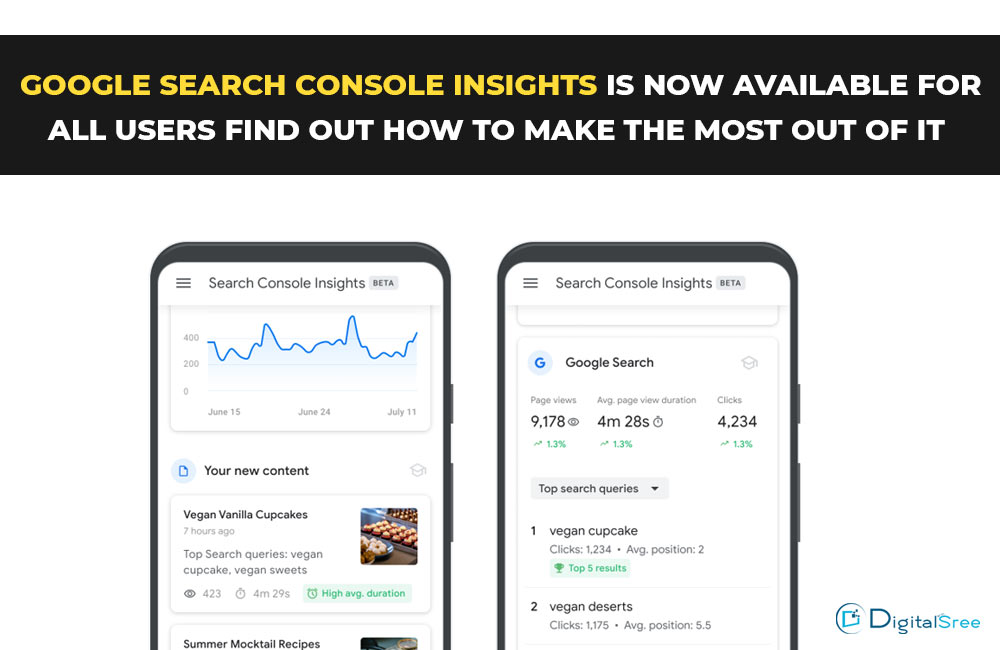 Google search console insights is now available for all users.
Really?
Beyond any doubt, after a long year of testing with the google insights beta version, Google has officially made the search console insights available for all the users.
This might be one of the latest updates on digital marketing.
Well, those who are not so familiar with the Google search console might be scratching their heads right now.
I will help you out with that. Let's start explaining from nuts and bolts,
What is Google Search Console?
Google Search Console, often called GSC, can be considered a medium of communication between Google and Website authorities.
So without any doubt, GSC is an SEO tool or can be considered as a data headquarters for your website that frequently analyses the data and forecasts the site report.
The site report is something of a factor that allows you to determine the possible changes and helps you make future related changes pertaining to your websites.
Let us show you How to use the Google search console.
By creating a Google search console account, one can access unlimited analytical data for their respective websites and make plans and strategies accordingly.
All you have to do is access the Google Search Console and click on Create an account, then add your website URL/Domain to the add a property section and there you are, all set to start.
Google search console dashboard works as a center of operations for your website. This is like a WOW factor for all those who do SEO for websites.
As SEO professionals frequently look for ways and tactics to compete for a top position in the Google SERP, the search insights never fail to help the SEO team by providing streams of analytical data.
The benefits of the google search console are never-ending, so do the possibilities.
Google search console email notification
This is one helpful feature that lets you know when a website is ranking for a new keyword, giving you identify the achievements and make further adjustments if necessary.
Contingent on selected notification frequency, you are alerted daily, weekly or monthly at 14:00 UTC.
Within the Google search console dashboard, there is a campaigns section. When you click on that, you can see the email notification option. You can then move to the search console section and then click on add alert button to enable Google search console email notification.
Google URL inspection tool
This is one fascinating tool that is a must-use tool for SEO purposes. It Lets you identify how google views your URL's indexability and reachability.
Using such tools within the Google search console opens up the doorway for fixing almost any SEO-related issues.
Google URL inspection tool comprises of the following features –
Your existence in Google.
Garner crawled pages.
Re-crawl or re-index your URL by using the Request indexing button.
Overview of your website coverage.
Enhancement button for viewing any technical issues on your website.
Run live tests on your URL using the test URL option.
Google URL inspection tool is surely one of the best SEO tools 2021.
​​Google search console insights is now available for all users Overview report
This mesmerizing report focuses on 3 main pieces of information –
1. Performance – Projects the search results and whether the users are getting better user experience in your website.
2. Coverage – Shows all the pages in your website that are already indexed and also that are not within your sitemap.
3. Enhancements – Checks if there are any Mobile-friendliness errors found on your website.
Now that I have explained about the Google search console data, tools, and related helpful features, let's move on,
The new search console insights
Finally, to the point,
"Google search console insights is now available for all users."
I have already mentioned that Google had rolled out the google insights finder beta version a year back.
Focusing mainly on content creators and content publishers, this new feature ran in beta version for almost a year. The access for google insights beta was then limited to few content creators.
Why just a few? You may ask,
Since new google search console insights were experimental, it would have possessed significant glitches. So open to few content writers and Google got many feedbacks on the usage and uncovered room for improvements.
Later on, came up with the announcement that Google search console insights is now available for all users.
Google search console insights for content creators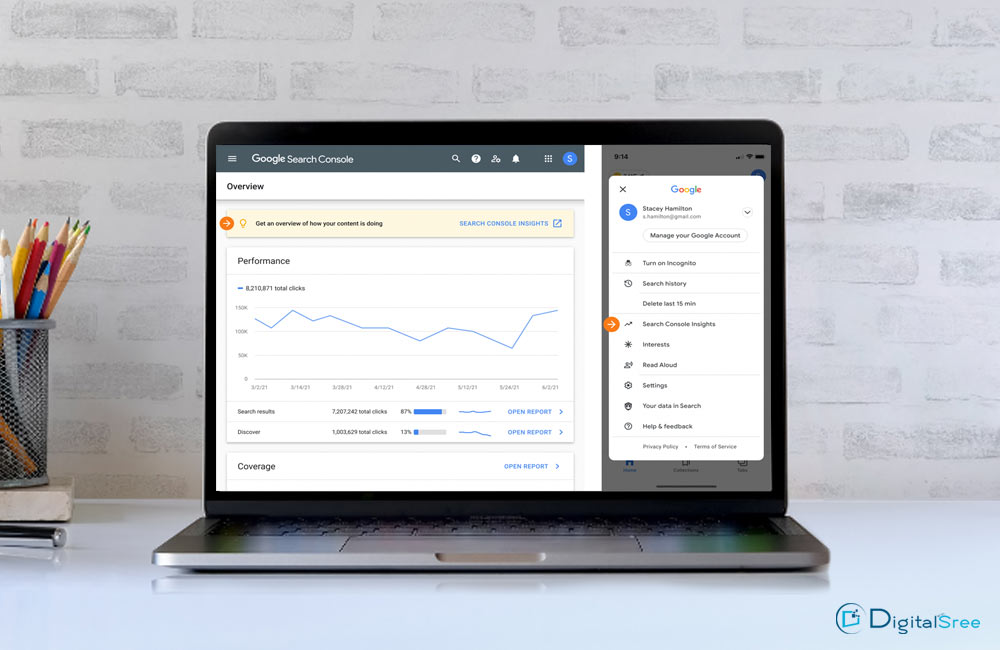 The feature of google search console insights is kind of a jackpot for content creators.
Truly amazing features –
Content creators often struggle to know what their best-performing contents are. Google search console insights show this valuable piece of information.
When a content creator crafts some unique and critical content on their website, they can know how well those contents are performing.
Google search console insights show how soundly your content is reflected all over the web and how the users are spotting your content.
If you are a content writer, you can get ample knowledge on what search terms or queries the users are typing in before they pop in on your content.
Search insight also shows which particular article is the reason that lures users to your website or related content.
What more does a content writer need? This absolutely looks like the content writer's prayers are heard.
How to access Search Console insights?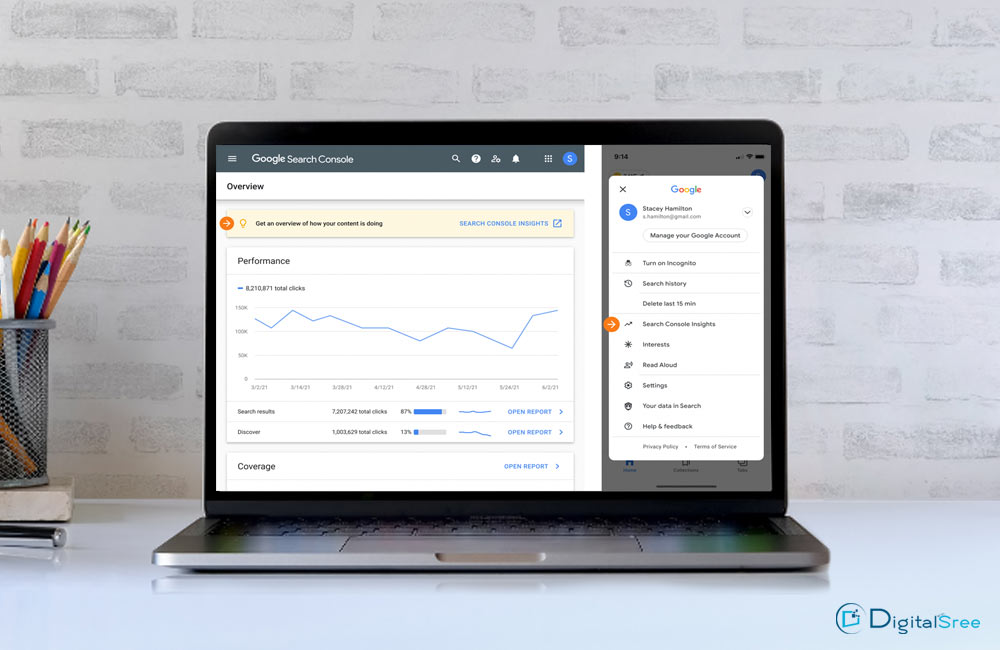 The above-mentioned is a link that takes you directly to the new google search console insights page.
That's one way to access it. Another way is by logging in to your Google search console account and clicking on search console insights from the search console's overview page.
Search console insights and Google analytics
This merging is highly recommended. Connecting your google analytics property to your google search console gets you more relevant, accurate and mesmerizing analytical data projections. The web analytics in digital marketing is undoubtedly a big deal in today's world.
Join the best digital marketing course to learn everything about web analytics
If the linking of analytics and search console data has not been done correctly, you will see missing data forecasts, lacking the whole analytical experience.
In the present circumstances, the new google search console insights only support Google analytics universal analytics properties or "UA," in the near future, the company plans on supporting Google analytics 4
Conclusion
The news of Google search console insights is now available for all users has brought more smiles on the faces of content creators, as more and more analytical data forecasted can result in focused and more polished content creation.
I hope that I have appropriately explained the complete understanding of the new search console insights, try it out and come up with fantastic content strategies.
All the best!!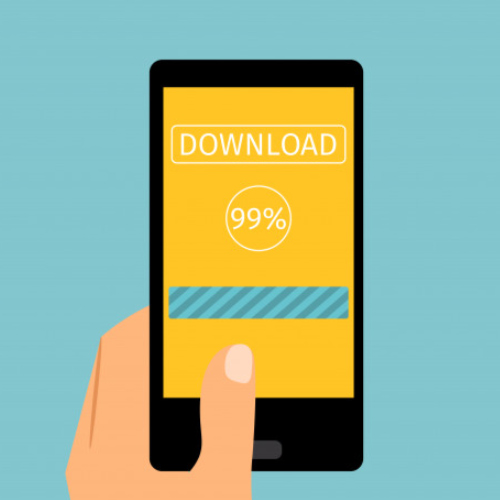 TOP INFLUENCER MARKETING AGENCY IN INDIA 2023By  SREERESH|  Date  :  25-APRIL-2023    Home > Blog > Influencer marketing agencyINTRODUCTIONIt is one of the social media strategies. It involves partnering with influential individuals or content creators to...