Ahrefs vs Semrush 2021-Comparative analysis of the top two SEO tools.
BY  SREERESH K  |  JULY 20.
SAVE 70% OFF on Digital Marketing Full Training
Ahref vs Semrush 2021?
Which is the best SEO tool?
There are so many questions regarding  Ahrefs vs SEMrush 2021 comparisons, and this is the time to solve all your queries.
So Which is better ahrefs vs semrush?
Let's have a look.
Before that, let me begin with the general information on SEO.
So, What is SEO?
SEO or Search Engine Optimization is the process of optimizing your website to get organic traffic from the search results on search engines.
 It assists you in determining your ranking factors' ins and outs. Overall, SEO is about developing your website, increasing the quantity and quality of the traffic to it.
So SEMrush and Ahrefs are two of the most popular SEO tools in the market for making this process easier.
So Ahrefs vs SEMrush 2021 . A bit interesting. right?
If you're a professional SEO expert or just a beginner in this field, you'll need the help of an SEO tool, and both Ahrefs and SEMrush will appear on your shortlist.
If you are a beginner in this field, who wants to learn more about SEO, you can join the best digital marketing course in Kerala, where you can learn all the aspects of SEO and be an SEO expert. 
Before we take a deeper look at the Aherfs and SEMrush overview comparison, let me quickly introduce these tools for you.
What are Ahref and Semrush SEO tools?
Ahrefs is an SEO platform offering many tools to develop your search traffic, research your competitors, and screen your niche. The organization began in 2010, and it turned out to be one of the most popular SEO tools.
Ahref is an effective tool that offers site explorer, keywords explorer, site audit, rank tracker, and content explorer.
As per the status given by Ahrefs, their database incorporates 10.3 billion keywords, 170 million root areas, 16 trillion known connections, covering information from 10 search engines (counting Google, Bing, YouTube, Amazon) in 171 nations.
Ahrefs is a great tool to consider is their comprehensive links database which makes it an excellent choice for link analysis and link building.
SEMrush is a complete advanced digital marketing platform with 40+ tools covering all parts of the same.
Semrush SEO tools are assembled into four principal categories: SEO, paid traffic, social media, content marketing, and statistical research.
As per the status given by SEMrush, their client base is 5 million, and their data set incorporates 18.8 billion keywords and 717 million domains covering 142 geographic areas.
What makes SEMrush a great tool to consider is that it's an all-in-one platform with several quality tools and has various semrush features.
Now let us dive deep into the comparison and difference between ahref and semrush.
Digital Marketing Full Course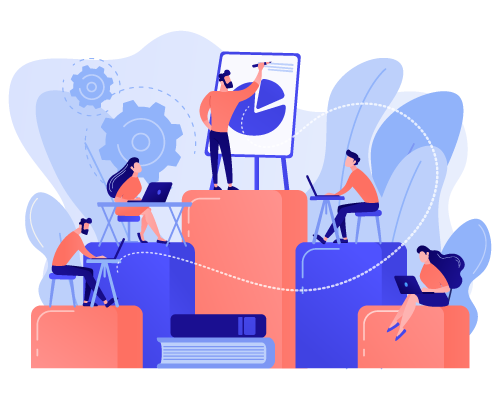 ☑ Best way to learn digital marketing
☑  Become a successful digital marketer
☑  Increase your traffic in 60 days or less
☑  Trusted by more than 30000 students
Ahref vs Semrush 2021-Comparison
We are going to compare ahrefs and semrush against the following features.
SEO audit
Keyword research
Backlink analysis
Rank tracking
Ease of use
Pricing
Support
SEO audit
At the point when you're arranging a trip, you can't track down the right direction, if you don't have a clue about your beginning stage and final destination.
The same is true for SEO. Performing an SEO audit will assist you in creating an SEO activity plan and showing you the way to follow to reach your objective, which is no other than higher rankings for your target keywords.
Both SEMrush and Ahrefs offer a specialized SEO audit highlight. They assess your website utilizing various predefined rules with technical SEO and give you a list of proposals on what you need to fix to develop your SEO performance further.
The two tools are alike in that general audit design, and they work correspondingly. The two of them incorporate supportive guidelines that clarify the issues they've found and how to fix them.
One of the differences is that SEMrush site audit gives you more information about your internal link distribution.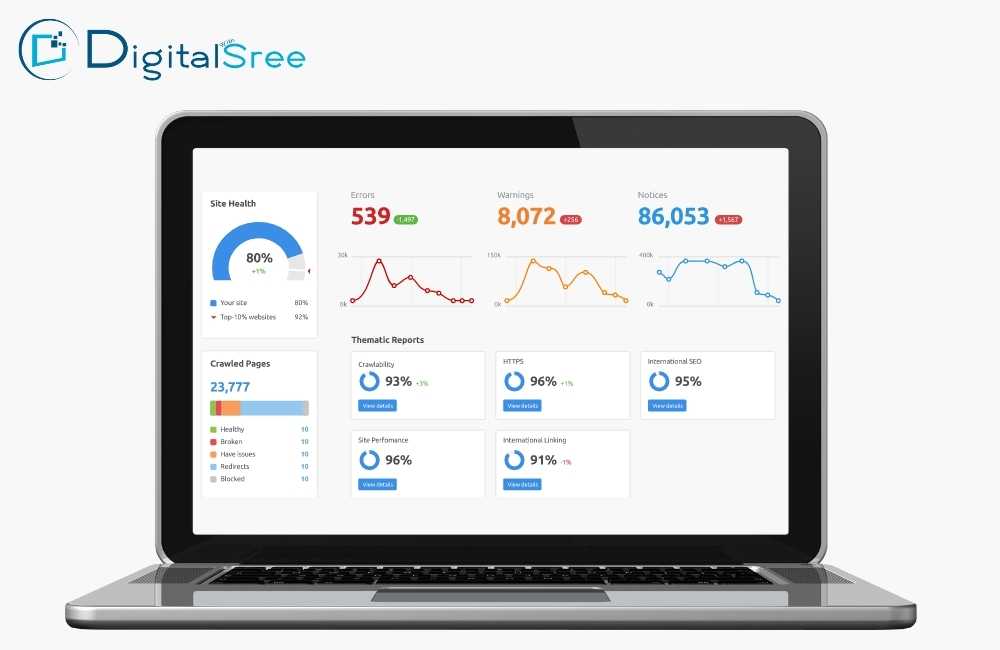 Your objective with internal linking is to help users by giving them extra information about a topic and search engines by giving them hints concerning which pages of your website are more significant.
This is a very powerful (and simple to use) SEO technique, and SEMrush makes it easier to understand how your internal links are distributed across your website.
Keyword Research
Keyword research is perhaps the most important and basic SEO process. If you get your keyword research wrong, you'll end up focusing on the wrong keywords and if somehow you manage to get traffic, it will not change over.
So, it's important to use a tool that gives exact data about keywords.
Both SEMrush vs Ahrefs 2021 gives you a detailed view of the keywords you want to optimize for on your website.
SEMrush calls their tool Keyword Magic, and its Ahrefs equivalent is called Keywords Explorer.
So how accurate is semrush and ahref for keyword research?
While looking for keywords for a specific topic, SEMrush appears to give more outcomes, yet Ahrefs has more channels to get rid of unessential or nonsense keywords.
Both SEMrush and Ahrefs additionally have a content gap analysis tool, which can be a great assistance. They let you compare your website with your competitors' sites that are ranking above you on search engine results pages (SERPs).
Both tools produce comparative results by listing the keywords that your competitor is better upgraded for.
Backlink analysis
Backlinking isn't just a game. You need your backlinks to be from trustworthy sites. The opposite can really hurt your SEO.
The two tools let you investigate your pages to see the number of total backlinks and referring domains they each have. Before, Ahrefs was the better decision for link analysis because they had a more grounded database.
However, in 2019, SEMrush did a most important database update. From then, the two tools are equal in performance.
So Ahrefs vs SEMrush 2021 ? who win here?
Overall, SEMrush wins out as a result because of a significant special feature: its backlink audit tool. This recognises potentially harmful backlinks that could be harming your SEO. You can disavow them with Google to stop the harm.
Ahrefs doesn't have this feature, however it shows you which of your backlinks have the most reduced domain authority. From that point, you could examine each site to check whether it's a potential issue.
Rank tracking 
As you work to optimize for particular keywords, you need to have to see your outcomes. This is where Ahrefs vs SEMrush 2021 has best rank tracking features come in and it also shows best serp tracking features.
Both of these tools have rank trackers that show you how your ranking position is moving for specific keywords. They also show you your site's overall performance across all the keywords you're tracking.  Both tools help you compare your website to your competitors' websites.
To the extent as the accuracy goes, the two tools give an impression of being equivalent. From the start, Ahrefs seems to have an advantage because its interface is more attractive and simpler to use. At the point when youdig deeper, however, SEMrush wins in other critical regions.
SEMrush updates their rank tracking every day. Through this, how semrush works is that it lets you watch your results in real-time and get a powerful picture of rank fluctuations.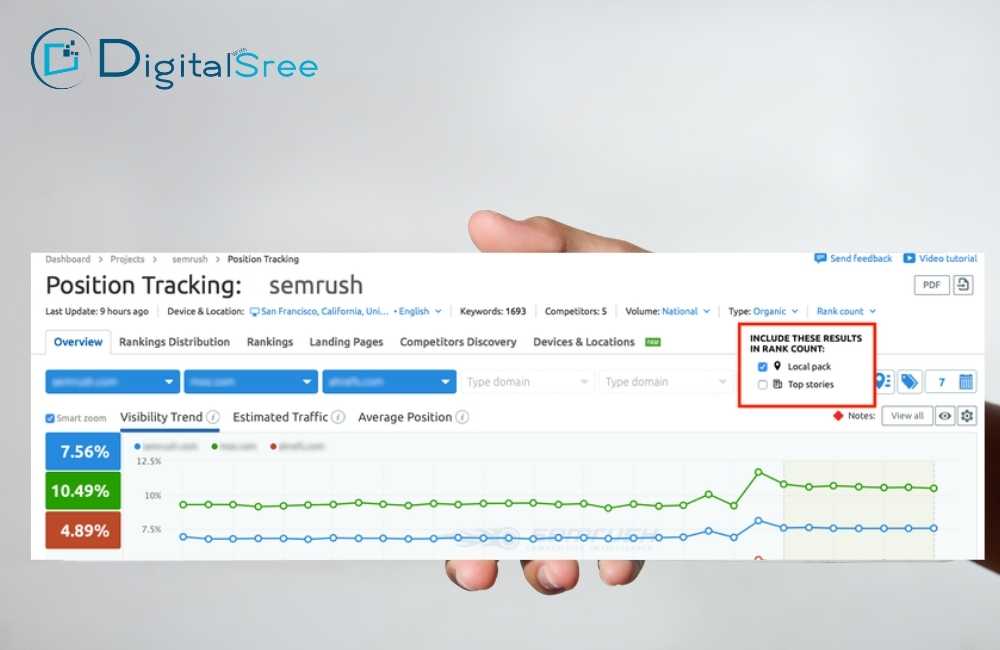 With Ahrefs, the most successive update plan available is every three days.With their most economical plan, you just get week after week updates.
Ease of use
When it comes to ease of use, Ahrefs and SEMrush both have their benefits and disadvantages. Ahrefs has a more intuitive user interface. Information is prominent and their graphs make it easy to understand at a glance.
In my experience, though, SEMrush has better performance. Ahrefs is sometimes slow to load.In case you're trying to check numerous sites or pages in a short period of time, Ahrefs may be slow.
It comes down to a matter of preference in this case. A few users focus on execution while others feel that Ahrefs' interface is with time.
Pricing
Cost is always an important factor, and for major reasons, Ahrefs and SEMrush are almost similar in pricing.
Both of these tools offer several plans with expanding capabilities. Ahref and semrush start their price around $99 per month for one user.
It's important to note that Ahrefs pricing $99 is more limited than SEMrush pricing $99 plan.
However, Ahrefs pricing plans give more users for the price they provide: three users for the Advanced plan, five for the Agency plan . SEMrush pricing only offers one user for every plan price with the option to add more users for additional fees.
Depending on how many users you need, SEMrush may be a better deal because of its extra features. For instance, semrush actually cut down the cost of Yoast Premium as well as your social media management tools.
Support
Overall, both Ahrefs and SEMrush have reliable performance. Still, you always need to know whether a tool has solid support in case a problem arises.
Both of the tools are very quick and responsive in their support.They additionally both allow you to contact them with an online chat feature.
With Ahrefs, though, the chat feature is where it stops.There is no noticeable way to contact them by telephone or through email. SEMrush, gives email and telephone support in addition to their chat features.
Semrush vs ahrefs- Conclusion
Now that we've finished our comparison of Ahref vs Semrush 2021 , I think that it's never wise to claim that one particular SEO tool is the best. What you can do is, use these tools and relay on the one which makes you comfortable, easy to use, affordable, and reliable.
New features are introduced all the time , and by using ahrefs or semrush, get the feeling that the money you pay for the monthly subscription is worth it.
If you need SEO services for your website, you can approach the best digital marketing company in kerala, or get advice from a digital marketing consultant in kerala.
I hope you've enjoyed this article and learned some useful information that will help you make your own decision.
Also checkout my latest blog "7 tips to optimize medium for business you should know" and do comment your valuable feedback.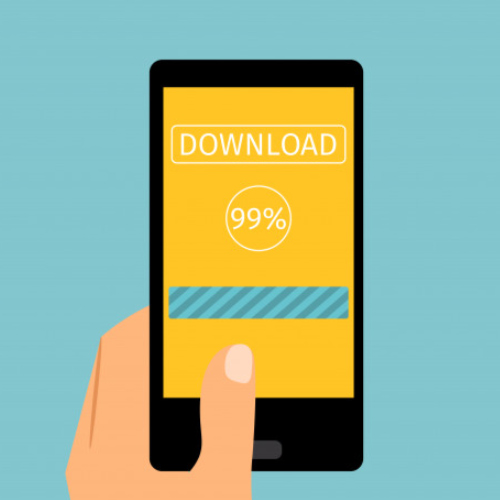 What Is Sitemap In SEO?By  SREERESH|  Date  :  05-JUNE- 2023    Home > Blog > EXACT URL FROM  SITEMAPIntroduction to Exact URL from SitemapIf your website's pages are linked correctly, Google will typically be able to find the majority of your site's content....