Freelance Social Media Marketing Expert in Kerala
Best social media marketing at the right time… There is no specific magic wand, no unseen tactics in social media marketing; It is listen, engage and build relationships
"Freelance social media marketing expert in Kerala". Do you wish to adorn the term?
Scrolling Facebook or other social media is easy and somewhat infotainment. The benefit of social media purely depends upon our actions there. I am not writing about the advantages or disadvantages of social media. 
I would like to describe my journey here. Why did people call me freelance social media consultant in Kerala or freelance social media expert. Without any doubt, I can say digital marketing leads to social media marketing. It seems easy-peasy at a glance. However, with social media ads it was difficult to target the audience properly. After experiments and tests; able to focus the exact audience. There unlocks the success stories.
Reasons why I struggle as freelance social media expert Kerala
Let me talk about social media ads v/s google ads. It is apparent that google ads have more conversion than social media ads, because the search is taking place at google. Social media is the best for branding and the best marketing tool ever.
You might notice that during the hard time of Kerala-deluge; most of the relevant info passed through social media. Almost every administrative personnel including district collectors depend on social media to raise awareness, to extend a helping hand to the public. So social media is an excellent medium to pass information.
If your business is in social media and actively creating content, you will witness improved brand awareness. While talking about my experience, when I understand the difference between inbound and outbound marketing.
It makes a vast difference. Digital marketing, especially social media, is a kind of inbound or pull marketing where the customer enquiries about your product or service. It reduces the stress of large advertisement expenses, and the entrepreneur is able to get more profit.
Hire the Best
Freelance Social Media Marketing Consultant in Kerala/India
Facebook Marketing
Get best facebook marketing in Kerala that supplies service right from social media audit to creating enthralling profiles that attract, engage and convert.
LinkedIn Marketing
Discover best LinkedIn marketing in Kerala that uncover business leads, professional growth, and act as a marketing tool to discover clients and maximise conversions.
Instagram Marketing
Best Instagram marketing in Kerala offers dramatic rise of audience, potential growth for brands and better ROI (Return Of Investment). Instagram marketing promises wider reach and a set of loyal customers.
Twitter Marketing
Twitter marketing in Kerala is meant to drive sales, generate traffic, increase quality leads and more potential conversions. Optimising twitter profile starts with creating an engaging profile that raises your voice and conveys a message to your audience.
YouTube Marketing
Unearth world's second largest search engine, YouTube to get an insight about the audience, improve brand image and connect via videos. Best YouTube marketing in Kerala attempt YouTube audit and find out your strength and weakness. Create a better game plan that conveys and converts.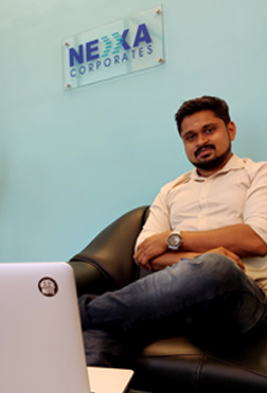 "I will guide you with key metrics that speak volumes of unseen stories,
I will direct you to specific objectives or strategies,
I will show you the peak of success that makes your business bright and colorful."
Let me help you transform your business
Fill in your details below & pick a time slot that works for you and let's get talking 
Just Make a Real Change that Decipher, Resolve and Gloss…
Let Us build together