Linkedin Online Jobs for Students, Tips and Tricks That You Never Heard Before.
BY  SREERESH K  |  MAY 14 .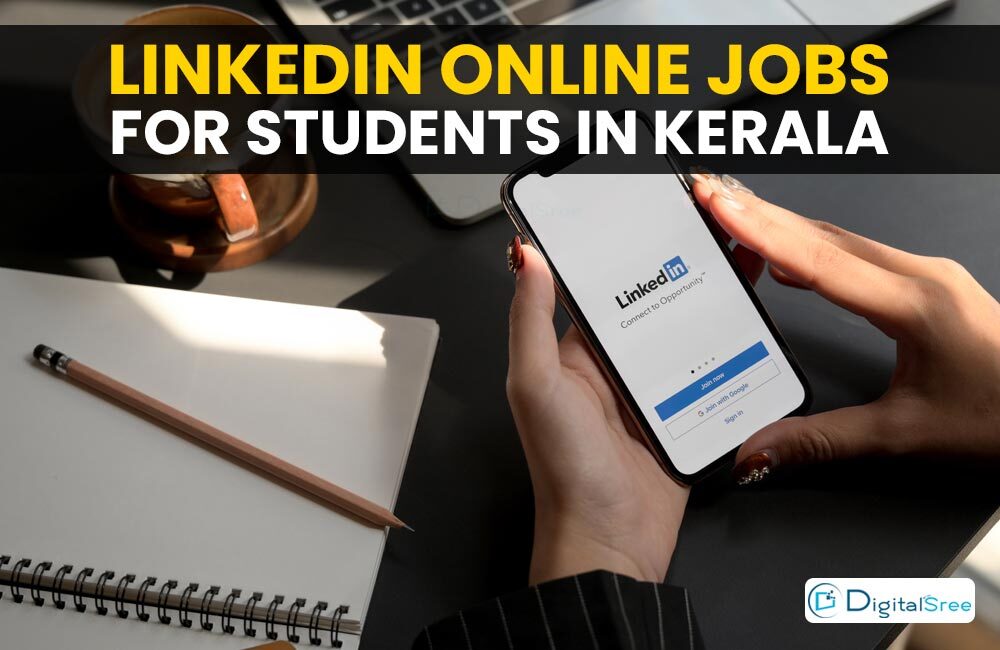 I am a fresher, recently graduated from university. Can a LinkedIn online job for students help me?
How do I apply for LinkedIn jobs?
How to optimise my LinkedIn profile to attract recruiters ?
These are some questions asked by students whenever I conduct a training workshop.
Plenty of job opportunities are created every day. Vacancies are there.
Why is LinkedIn attracting job seekers?
Do you know why LinkedIn is the guidebook for job seekers ?
Studies show that 89% of recruiters use LinkedIn for recruitment.
LinkedIn users are scattered more than 200 countries around the world.
The decision makers of small to large organizations, professionals, entrepreneurs are using LinkedIn to enhance their skills .
Yes, it is all about LinkedIn learning .
Let us focus on LinkedIn learning next time.
Come on !
Let us find a job through LinkedIn jobs.
I am a student, can i get LinkedIn jobs?
There is a popular joke by Barack Obama, the former U. S president. once he made a statement during the press conference that he is going to depend on LinkedIn to land a job after his term is up.
How cool !
LinkedIn is a powerful social networking tool that can affect your professional life.
Is there any LinkedIn job for freshers?

What are the LinkedIn jobs for students ?
Dear students,
These questions might arise in your mind. I am going to answer how students in Kerala can use LinkedIn for better job opportunities.
Stay awake!
Students can use LinkedIn to develop a professional online presence which is helpful to grab jobs, internships, volunteer opportunities while you are in college.
A LinkedIn profile is enough to build your professional stature by showcasing your credentials, academic updates, interaction with industry leaders and potential employers.
The basic access is free of cost, while the premium version offers extra tools which enable you to land a job, view who is watching your profile, compare with other applicants, salary details, etc.
All you need is an attention grabbing profile that showcases your talent.
Enroll
Digital
marketing..
How to create a powerful LinkedIn Profile
☞ Sign up LinkedIn with your first name, last name, email id and password.
☞ Decide to continue with free version or move on with paid subscription
☞ Pick a professional profile photo
☞ Don't use selfies or photo filters
☞ Write a strong profile summary
☞ Write a summary in clear and crisp
☞ Don't oversell your skills in the summary
☞ Follow a clear tone that able to hook the reader
☞ Display your qualifications in the qualification and experience section
☞ Expose your educational history, relevant awards, scholarships.
☞ Write your experience
☞ Your experience as an intern, freelancer, voluntary activities if any.
☞ Write a brief description to each position with relevant keyword
☞ Add skills that suits to your job position
☞ Be genuine while adding the details.
☞ Ask a friend or mentor to review the profile
How can I use LinkedIn to its fullest?
Active participation in LinkedIn is saying 'look at me' without boasting.
Like any other social media platform, LinkedIn encourages social connections.
What are the ways to cultivate an attractive presence in LinkedIn?
➱ Here are a few tips and tricks that will earn LinkedIn jobs or LinkedIn online jobs for freshers.
➣  Keep your profile fresh
You need to keep your profile up to date. LinkedIn profiles with a profile picture are more likely to receive more page views. Add relevant skills and regularly update your profile to make you noticeable .
➣  Add current skills and objectives
Please ensure you are using LinkedIn correctly. Use headlines to show your main objective.

➣  Emphasis your recent experience
Your recent experience is relevant, and it is showing where you have reached so far. It exposes your expertise in the field. So don't forget to add to your recent experience.

➣  Follow companies you are interested
Make a list of companies you like to work for. Follow them, familiarise with their LinkedIn activities and be aware is there any position available there .

➣  Be involved in LinkedIn group activities
Identify professional groups and get involved in the conversations that take place there. Show your expertise. Remember, just a LinkedIn profile is not enough to secure your dream job. Get involved in conversations and other LinkedIn activities.
➣  Network after business hours
Try to network after business hours to make more personalised connections. Attempt to follow different times in order to analyse which time is better and what time you receive more responses.
My experience and suggestions
Linkedin is a powerful social networking platform for professionals.so if you are a students who is looking to land a job, Linkedin is the best place to roam around.
Believe me, time you spend on Linkedin never be a waste.
Once i were not active in LinkedIn, there were no job pitching for me.
When i start active participation in Linkedin the job offers starts come in . Recruiters or hr managers starts giving job opportunities.
LinkedIn presents huge career opportunities that is beyond your imagination.
What you need is optimise your profile, actively participates in LinkedIn groups, make more connections in your niche and build your personal brand.
What is your thoughts about LinkedIn jobs?
Express your experience