Top 5 Free Tools to Check Any Site's Website Traffic
BY  SREERESH K  |  MAY 11 .
What do you think is the main reason that you should contemplate your website traffic?
Not sure?
Don't worry. We will clarify.
A regular check of website analytics gives you a clear picture of your website statistics, by which you can easily understand the changes to be made for getting more traffic to your website.
Also, it shows you the source of your traffic and where and how visitors engage with your site.
By analyzing these factors, you will be able to be more productive and tactical with Check website traffic free.
Similarly, you should also check/analyze your competitor's website.
This tools will help you to get a better understanding of what factors make your competitor get more traffic comparatively, the keywords they are ranking for, what pages or posts are attracting more traffic to their website and how their traffic tends to change over time.
By having a good analysis, you can generate more traffic to your website by link building, better keyword research and focusing on similar keywords and topics on your competitor's website.
There are some key points to look out for when analyzing a website, and those are:-
◒  Visitors – the number of people who have visited a website in a given period of time.
◒  Average website visit duration – the amount of time spent on a website by each visitor.

◒  Bounce rate – the number of visitors exiting or leaving a website without spending much time or without visiting a second page.

◒  Traffic through an organic search – The traffic received by a website through organic search or search through a search engine.

◒  Pageviews – The total number of pages in a website viewed by the traffic generated with a certain period of time.

These are advantageous tactics used prominently for competitive ranking and staying an alpha in the current online market.
Saying all these, let's get to the top 5 free tools to check any website traffic.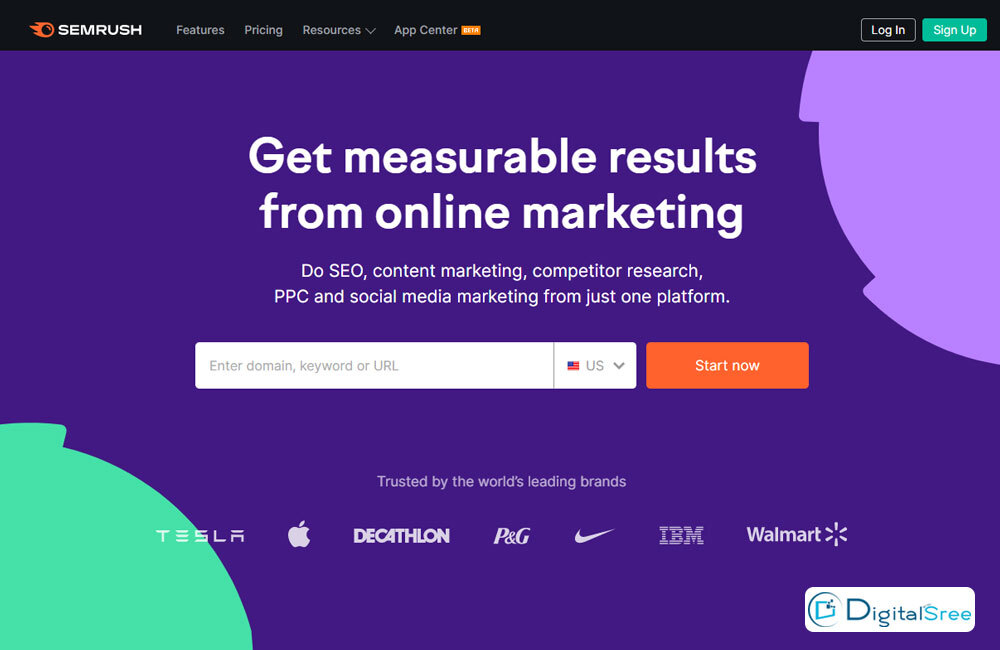 This tool is an excellent choice to check and analyze any website traffic, yet, the free version is pretty limited.
So you have to be really careful in prioritizing what you have to explore, or else you might burn up the free usage on each feature even before you can analyze all the options available.
This robust tool comprises the following features:-
◒ Check total visits on your websites.

◒ Average visit duration acquired.

◒ Bounce rate facing by your website.

◒ Pages surfed on your website.

◒ Unique visitor or returning visitors.

You can also get more details/insights from additional traffic reports.
With the free version of SEMrush, you won't be able to see more than ten results for the website you are analyzing.
There is a free 7-day premium trial. For this, you have to register on SEMrush using your email ID, phone number, password and have your account created. By activating a free trial, you have uninterrupted access to the premium version of SEMrush for 14 days. 
➪  Click on this link to get redirected to the sign up page https://www.semrush.com/signup/
➪  You can either use your existing Google account or create a unique account for signing up
➪  The next page shows two choices :- the pro and the Guru version costing you $199 and $299 respectively
➪  You can opt to either skip the trail for 7 days and go for the premium version or go ahead with the free trial.
UberSuggest is one of the best SEO solutions, and it can be helpful in multiple things like keyword research, content marketing, and also to check website traffic.
Even though Ubersuggest offers a sweet set of tools, the free version is limited to 3 websites per day.
Checking website traffic is quite simple on UberSuggest as you have to type in the domain name into the search field on the homepage. A simple overview is shown of the website's traffic which includes the total monthly organic traffic and the number of organic keywords the particular site ranks for, and also shows the list of top SEO page's and keywords that the website has. And that's pretty awesome, isn't it?
Similar to SEMRush, UberSuggest gives a free trial of only seven days for users who have registered on the site using a credit card.
✍  Ways to register are pretty simple

➪  You can use your google account or create a fresh UberSuggest account.

➪  Once you get directed to the dashboard page you can start using the tool

➪  On the top right you can see the option for paid version or you can just proceed with the 7 day free trial

➪  There are three categories in the paid version ranging from USD12 per month for Individual plan, USD 20 per month for Business plan and 40 USD per month for Enterprise / Agency plan and the best part is the life time plan costing you 120$, 200$, 400$ respectively which is amazing because of the cost saving compared to its competitors.
A simple yet very useful tool shows you the website traffic with precise data. This tool comes in handy if you are creating ad campaigns by tracking prominent keyword rankings.
Draining inadequate or irrelevant keywords is a much helpful feature that Spufu provides.
Spyfu can also be considered as an SEO Solution, where you will be able to get various insights on keyword research that are reasonably easy to apprehend and also has a user-friendly interface.
Even if you plan on a premium version of Spyfu, the price range is much lesser than its competitors like SEMrush, Ahrefs etc.
➪  If you prefer to use Spyfu as a free tool there is no need to create an account, you can simply access the tool from the home page itself

➪  If you are looking for a paid version, click sign up on the top right corner and there shows the plans you can opt for.

➪  There are Basic, Professional and Team plans costing you $33, $58 and $199 per month respectively for annual plan, And a monthly plan of $39, $79 and $299 respectively.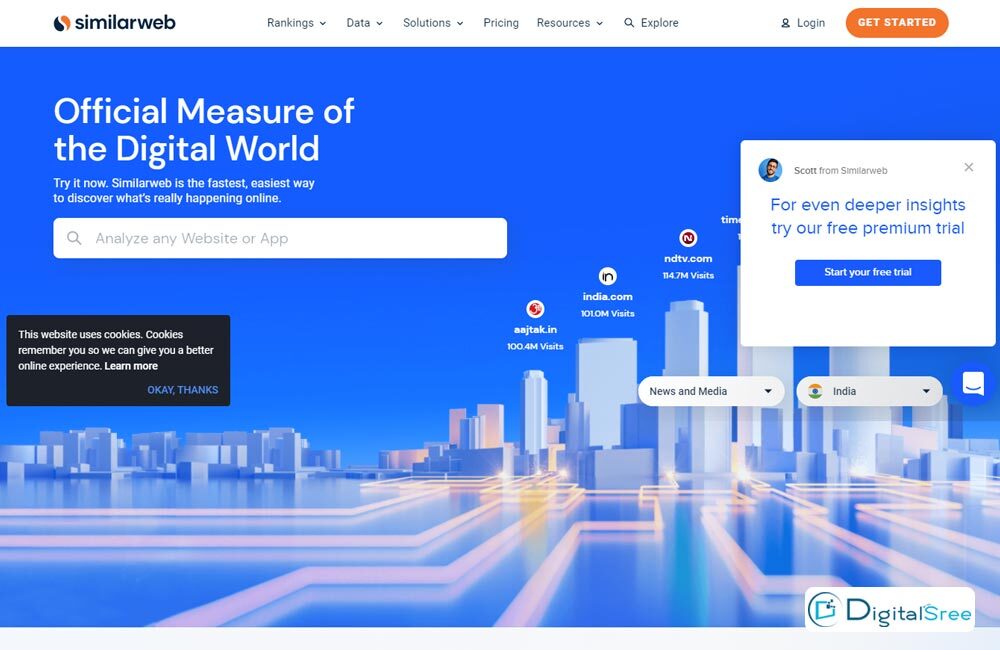 This is an almost free website analysis tool that provides reasonably accurate data relating to website traffic and which country is the primary traffic source.
You will be able to see various details regarding a particular domain that you have searched within their database; for example:-
◇  You get to know what specific category that particular website has ranked in.

◇  How many visitors does a website have, and the number of page impressions the visitors generated ?

◇  Traffic generated from social media categorized by platforms.

◇  Top five countries that the traffic has originated from A bundle of useful information, all absolutely free of cost, brings us to the premium version, which helps us benchmarking our site against our competitors and a glimpse of their marketing strategies

➪  The free usage can be accessed by just login in using required details

➪   Free account shows 5 results per metric page, 1 month of mobile app data and 3 months of web traffic data.

➪  For a paid premium account categorised into Professional and Enterprise plans you need to get in touch with the Similarweb consultant as these are custom plans and the price range varies according to the needs.

Gradually to the final tools in our list, as we say last but not least, yes!! This is indeed the best of them all and one of our personal favourites.
One of the best and prominently used tools by leading brands. Once you start using Ahrefs, it will definitely make your SEO analysis more manageable. This tool offers a list of features that can be pretty addictive for a digital marketing professional.
You may ask, what's so special?
Well, Ahrefs helps you to get a clear picture of how your competitor's website ranks higher and gets comparatively more traffic than you. With a massive number of data of more than 200 million websites, and by crawling more than 6 billion website pages every single day, Ahrefs is more than capable of providing you with the data for you to outrank your competitors.
But unfortunately, the free version just shows you a section of the total data reflected for a specific domain name.
The charges for a seven-day trial is 7$, and we would strongly recommend you all to try this tool for once and get to know why this makes a difference.
➪  There are two options on the top right corner of the Ahrefs dashboard, one is to sign in and get on to the pricing list, and other is to start a 7 days worth free trial, or else you can keep using the limited version of Ahrefs.
➪  There are Lite, Standard, Advanced and Agency plans varying from a price range of $99, $179, $399 and $999 respectively for the premium plan.

In conclusion we have suggested the best of many tools that you can find online, once you have got the taste of these prominent tools we are pretty sure the websites you are working on gets an unparalleled boost among your competitors.